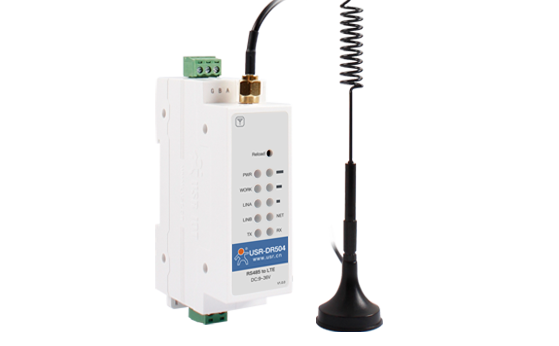 USR-DR504-G (DIN Rail RS485 Industrial Cellular Modem)
● DIN-Rail
● Work Mode: Transparent Mode, HTTPD Client Mode, SMS Mode
● TCP Server/Client, UDP, Modbus RTU to TCP
● RS485 to 4G modems
● EFT/Surge IEC 61000-4-5 Level 3
● ESD IEC 61000-4-2 Level 3
● Hardware watchdog
● SMS, NET, Serial AT command configuration
Compact Industrial Serial to Cellular Modem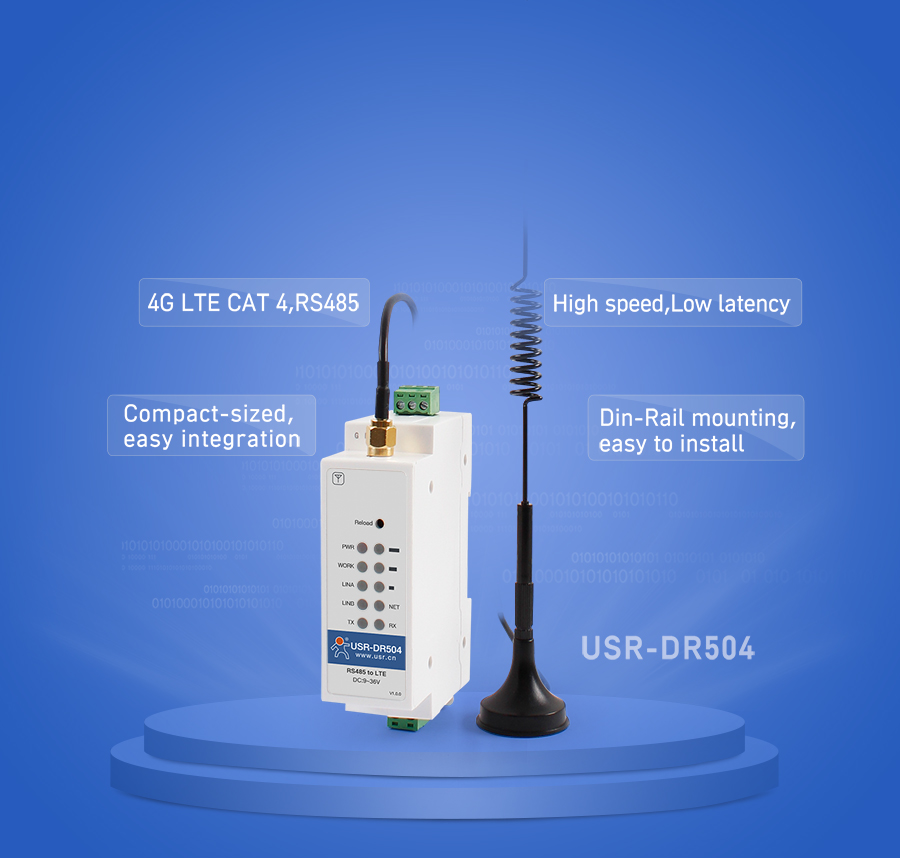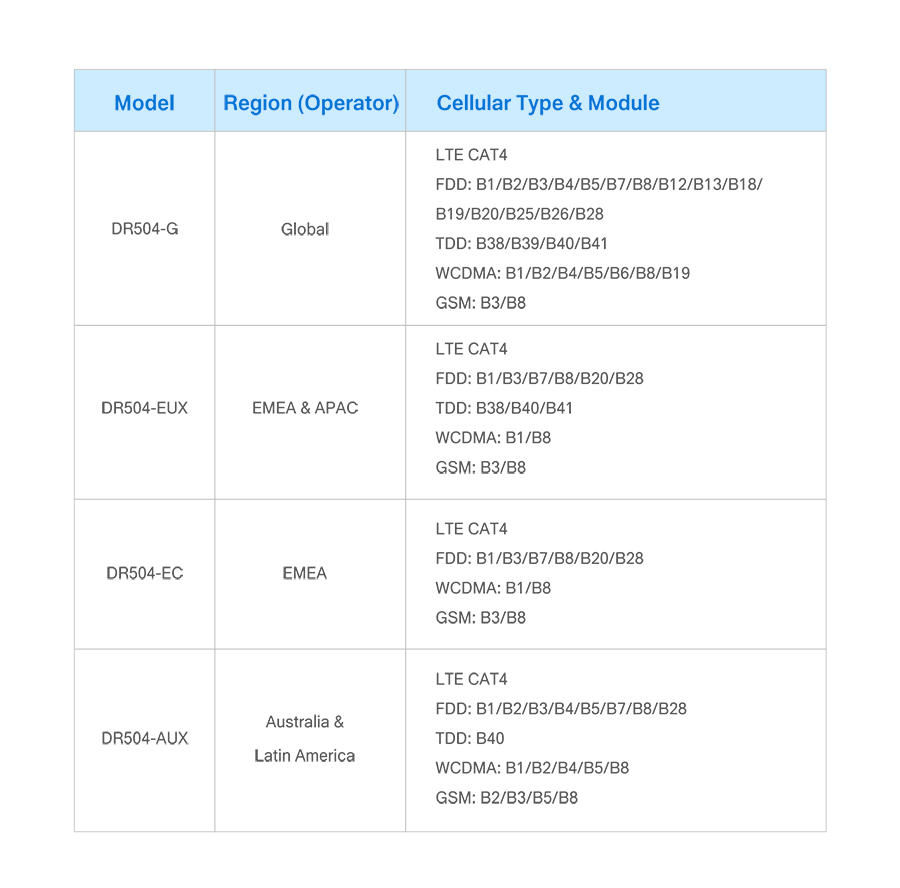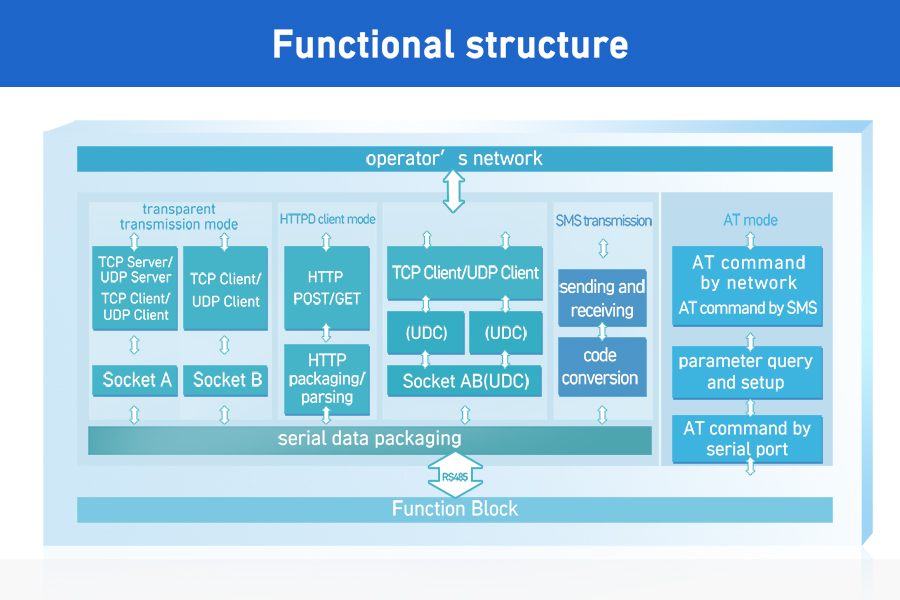 Provide data two-way transparent transmission between field serial devices and the central control server
Supports 2 socket connections, supports TCP Client and UDP
Supports custom heartbeat package and registration package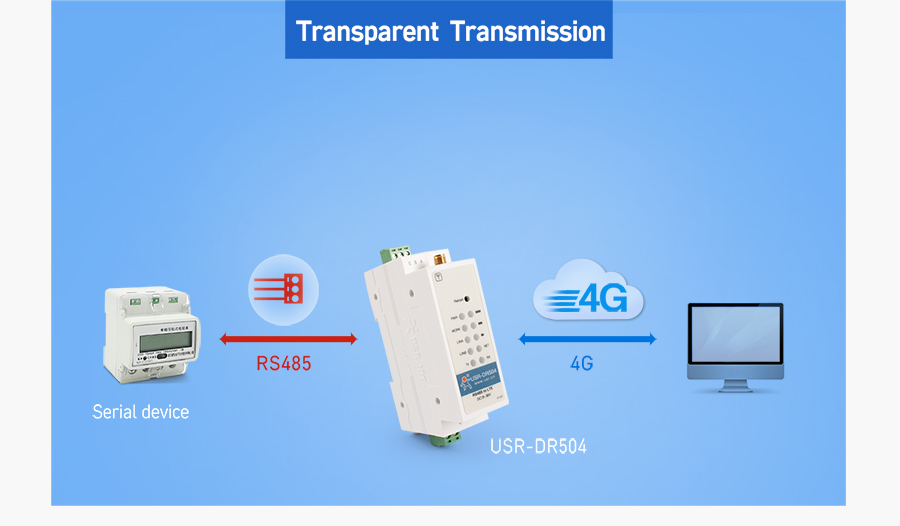 Submits serial data to the designated server by HTTP (GET/POST) method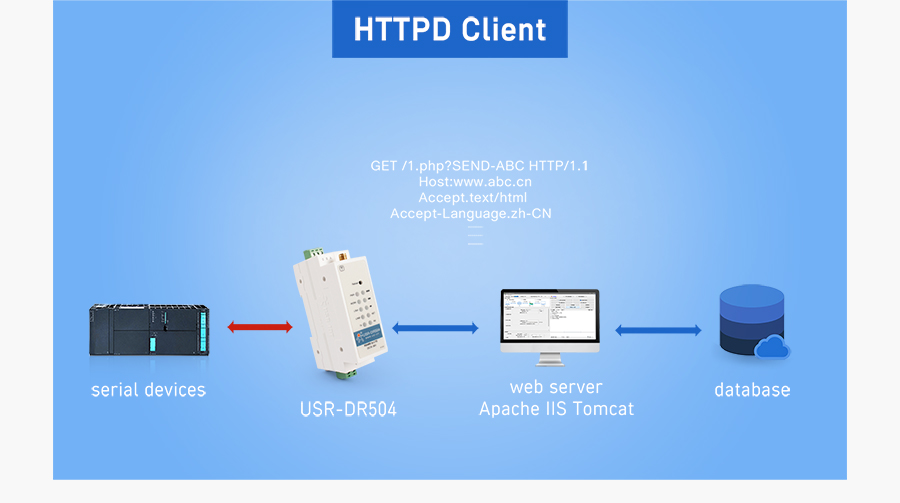 Modbus RTU/Modbus TCP protocol conversion for industrial SCADA systems and field devices.
Registration Package plus Heartbeat Package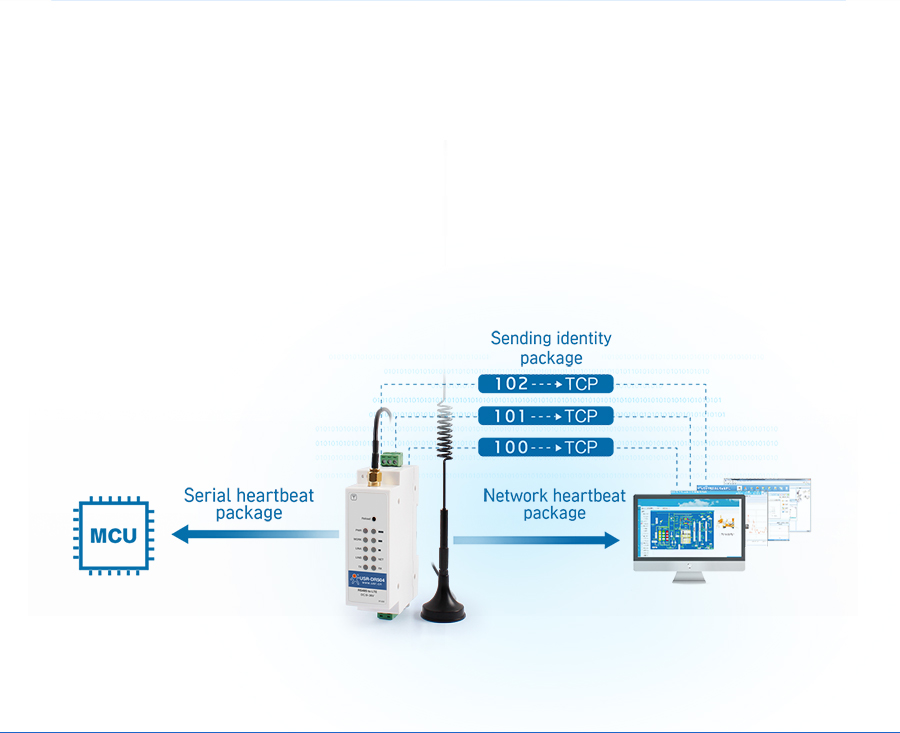 The registration packet is sent to the server to identify the device. The heartbeat packet is used to judge the active state of the device when sent to the server, and actively collect data when sent to the serial terminal. The contents of registration package and heartbeat package, heartbeat interval can be modified by AT command.
Parameter Configuration
Support AT command setup by serial port, network, SMS and provide configuration tool for PC (windows).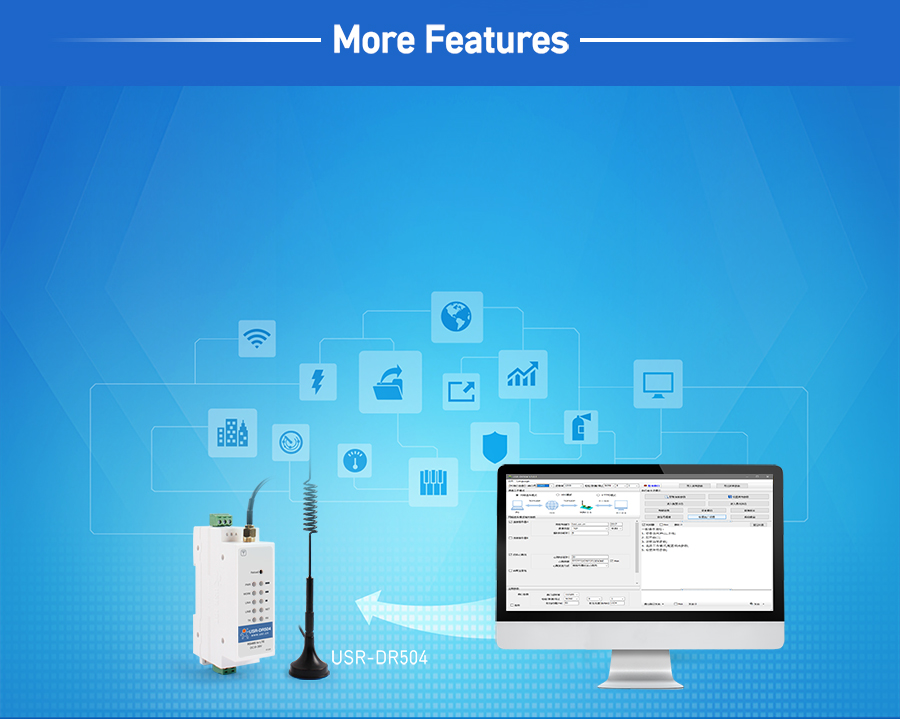 Remote FOTA Upgrade
With the remote management platform, it can realize the automatic
firmware upgrade. The difference in an algorithm upgrade package is small, saving upgrade traffic and time.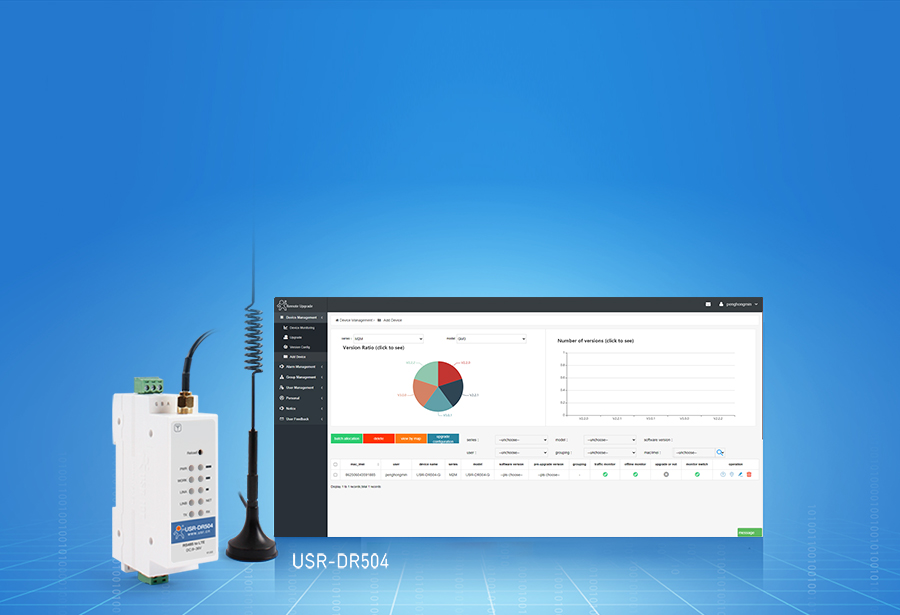 Hardware Protection
Level-3 ESD protection, level-3 surge protection, and built-in hardware watchdog
DIN-Rail mounting
Convenient cabling for installation, less space usage, and ease of use with other products.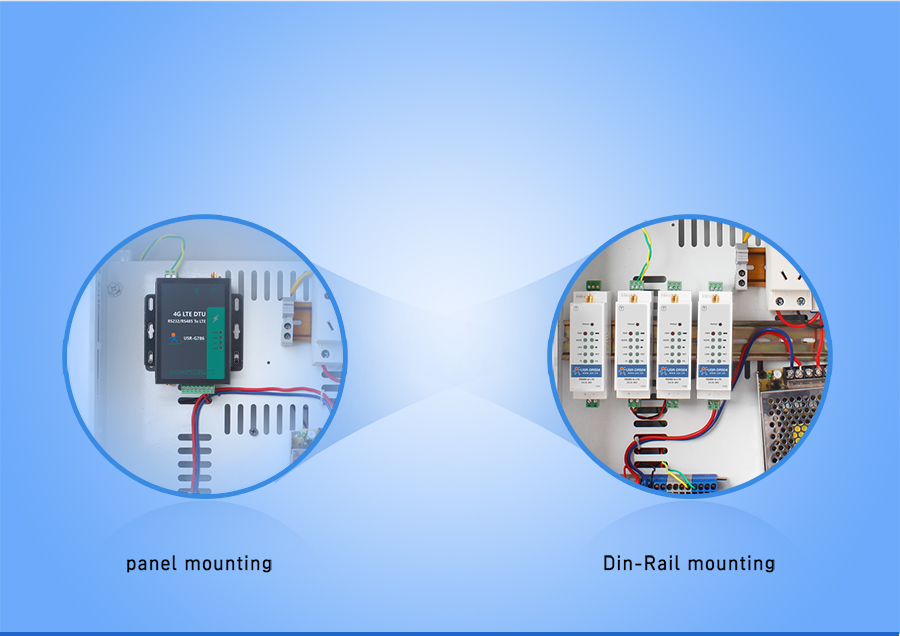 Data Collection of Distribution Boxes
By virtue of its small size and DIN-Rail installation, USR-DR502 can be installed in a low voltage distribution box to save space. With extremely fast response speed, 4G DTU device can timely send data to the control platform.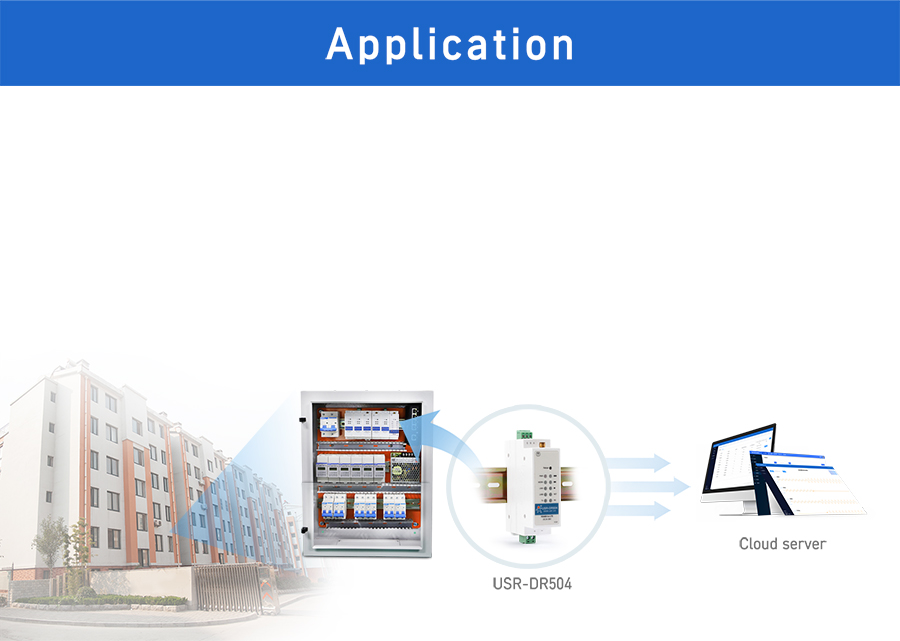 Specification Parameters
Model
USR-DR504-G
LTE Category
LTE Cat.4
Frequency Bands
LTE FDD
B1/B2/B3/B4/B5/B7/B8/B12/
B13/B18/B19/B20/B25/B26/B28
LTE TDD
B38/B39/B40/B41
WCDMA
B1/B2/B4/B5/B6/B8/B19
GSM
B2/B3/B5/B8
Transmission Speed
LTE-FDD
150Mbps(DL)/50Mbps(UL)
LTE-TDD
130Mbps(DL)/30Mbps(UL)
DC-HSDPA
42Mbps (DL)
HSUPA
5.76Mbps (UL)
WCDMA
384Kbps(DL)/ 384Kbps(UL)
GSM(EDGE)
296Kbps (DL)/ 236.8Kbps (UL)
GSM (GPRS)
107Kbps (DL)/ 85.6Kbps (UL)
Serial Parameters
接口形式
RS485(Terminal)*1
Data Bits
8
Stop Bits
1,2
Parity Bits
NONE, ODD, EVEN
Baud Rate
2400~230400
Physical Interfaces
SIM/USIM card
1.8V/3V(中卡)
Antenna
SMA Female
USB
USB 2.0
Indicators
POWER, WORK, NET, LINK, RSSI
Reload
Button
Reset
–
Hardware Characteristics
Input Voltage
9V~36V
Connector
Terminal
Housing material
ABS Plastic
Dimensions(mm)
44.5×31.8×13.94
(L*W*H)
Operating temperature
-30℃~+75℃
Storage Temperature
-40℃~+85℃
Operating humidity
5%~95%
Storage humidity
5%~95%
Software
Protocol
TCP/UDP/DNS/HTTP/FTP
Serial to network
2 sockets, default A
SMS
PDU/TEXT
Configuration
Serial, Net, SMS AT commands
Cache
5 Packets
Packaging mechanism
Packaging time(ms)
100~60000, default 100
Packaging length(byte)
100~1000, default 1000
Others
Tool
USR-Cat 4Configuration Utility
Certifications
CE, ROSH
Request a Quote