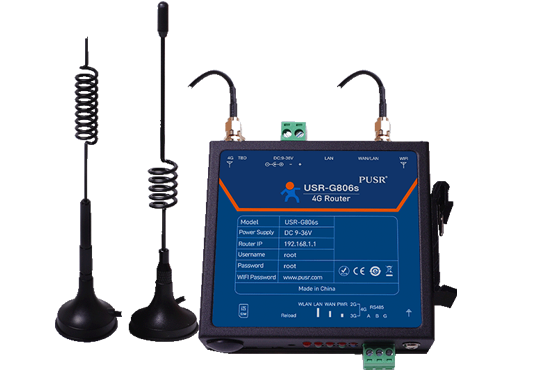 USR-G806s Serial Port Industrial LTE Router
Supports IPsec VPN, PPTP, L2TP, OPEN VPN, GRE etc. ensuring secure data transmission
RS485 default, RS232
1.5KV network isolation transformer protection
Static IEC61000-4-2, Level 2
Pulsed Electric Field IEC61000-4-4, Level 2
Hardware Watchdog
Supports email alarm, SMS alarm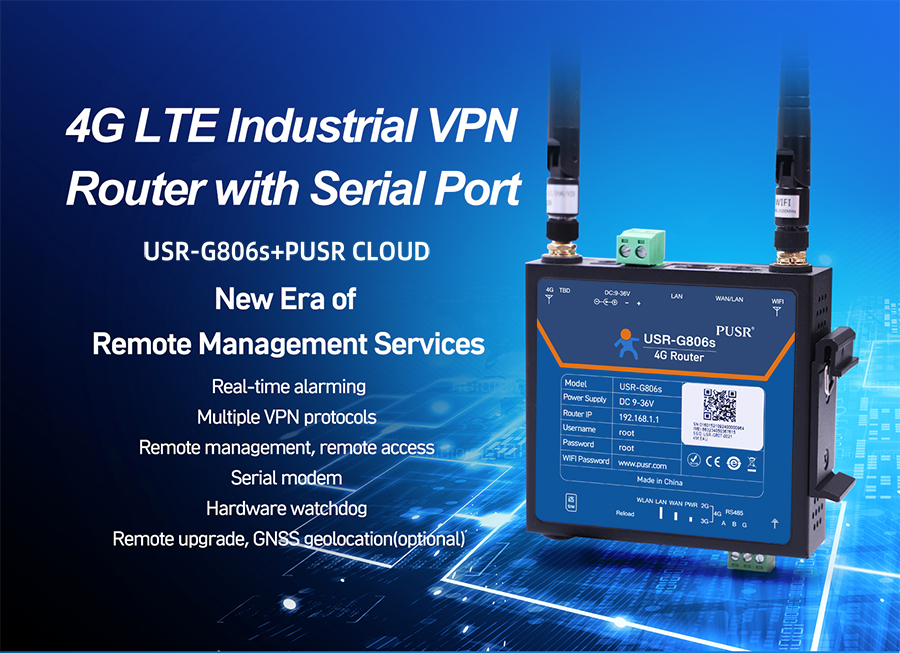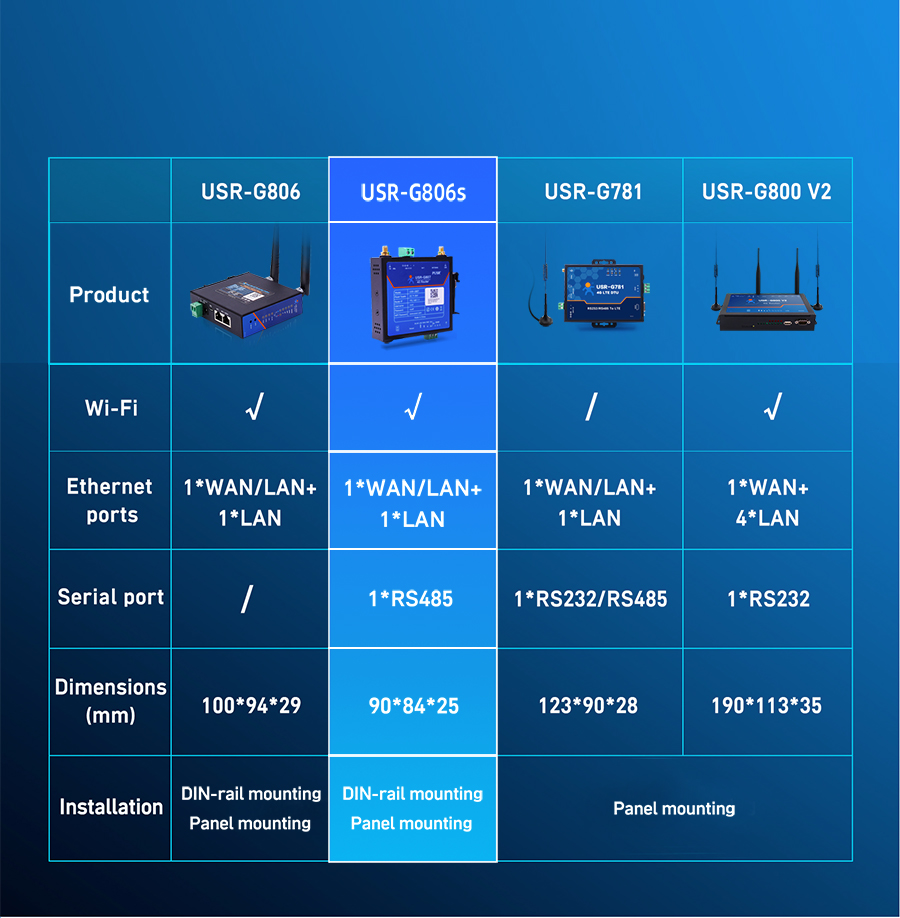 Your Data Security, Our Responsibility
Comprehensive VPN protocols support enhances data security, including OpenVPN, IPsec, PPTP, L2TP and GRE. Multiple encryption methods make financial-grade data transmissible.
Enhanced OpenVPN Design
Professional and Easy to Use
Allows connection to three different OpenVPN servers as a client and also functions as an OpenVPN server.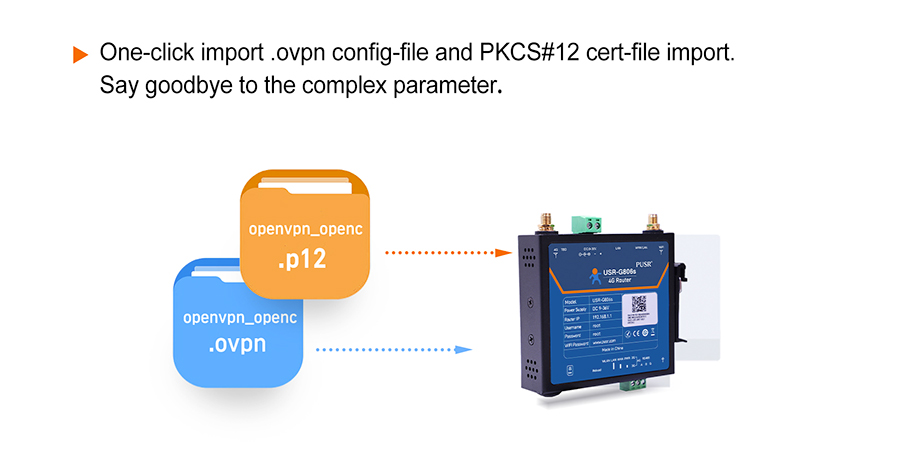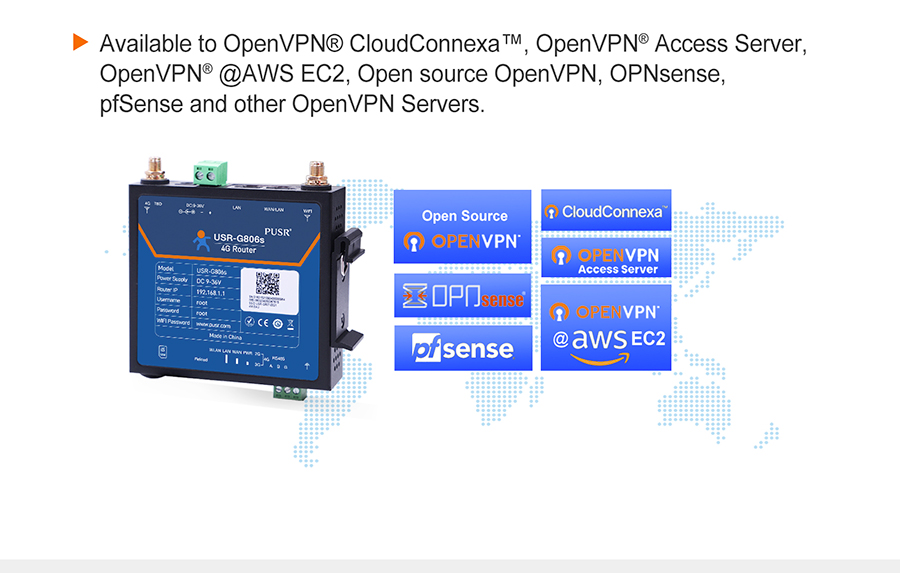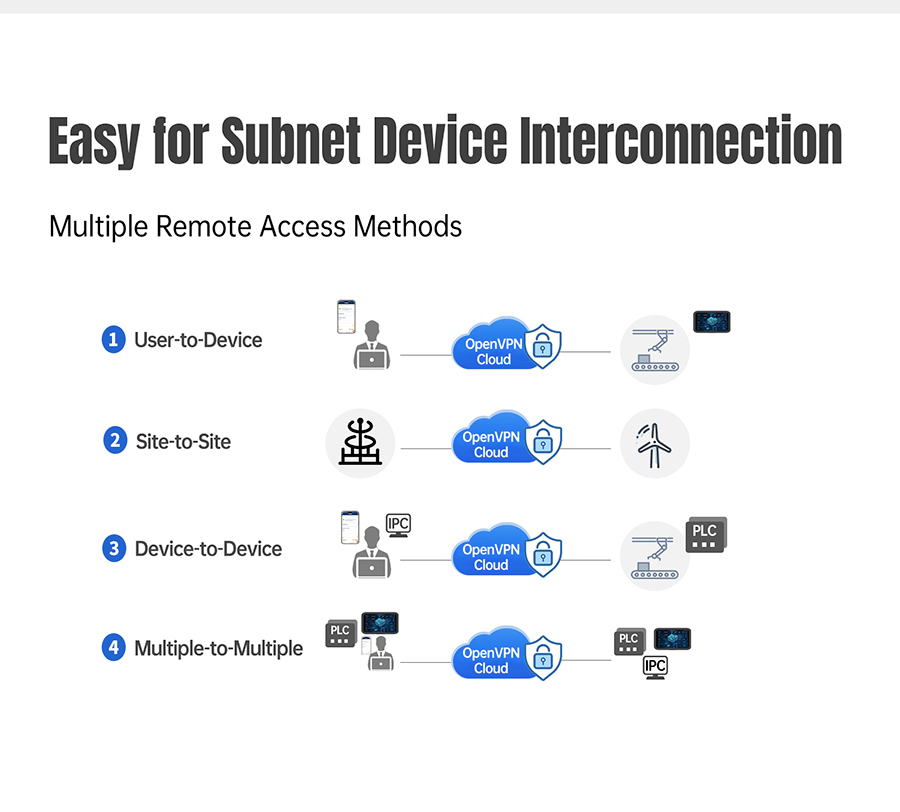 Remote Management, Remote Access Efficient Batch Configuration without on-site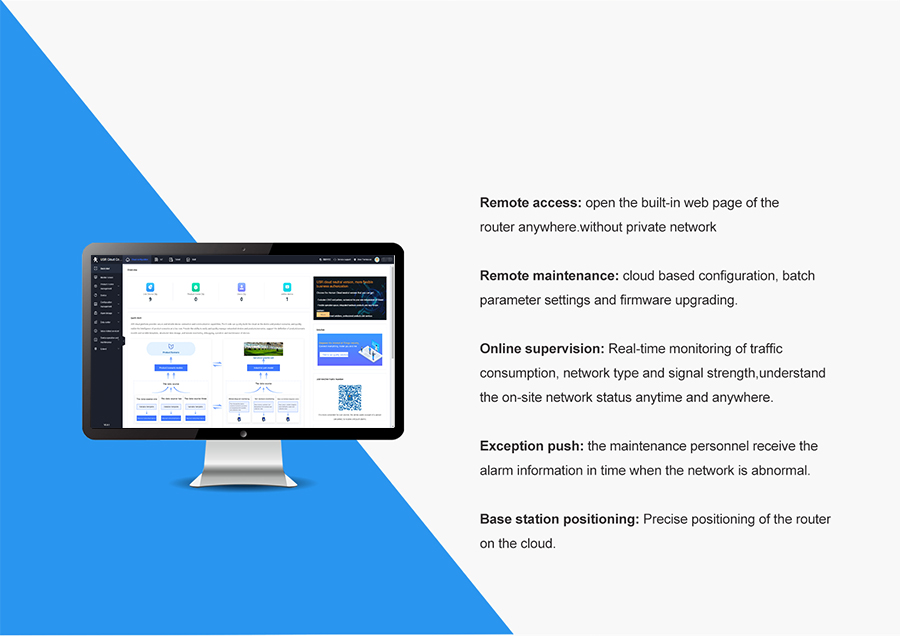 Compact and Rugged Housing Design
Compact size, supports both panel and DIN-rail mounting, suitable for various industrial IOT applications.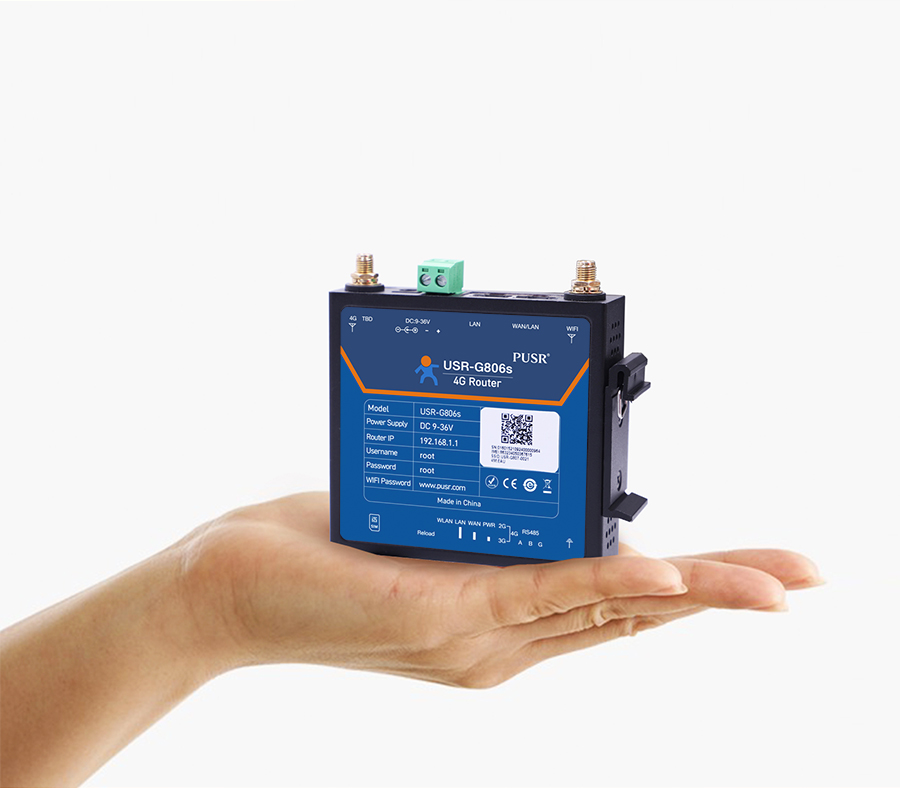 Serial Modem
G806s integrates with routing and serial modem, which can easily achieve the bi-directional data transparent transmission between RS485 devices and 4G network. G806s also supports the connection to various cloud platforms. It also supports user-defined registration & heartbeat packets to ensure the device's online connection.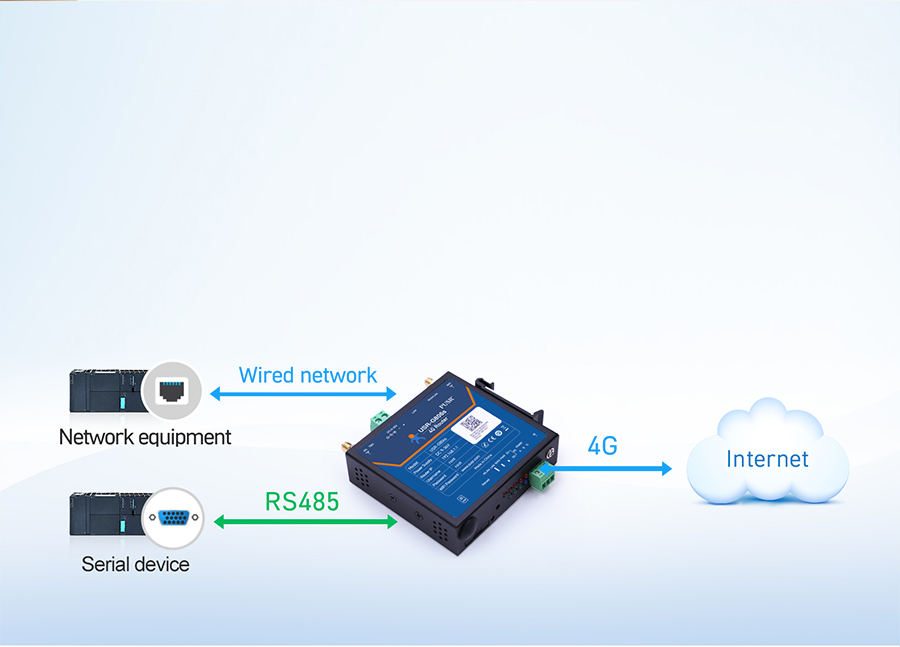 Industrial Design, Fit into Any Harsh Environment
ESD, Surge, EFT protection, wide input voltage. Built-in hardware watchdog, 7*24 hours stable operation in harsh environment or industrial site with strong electromagnetic interference.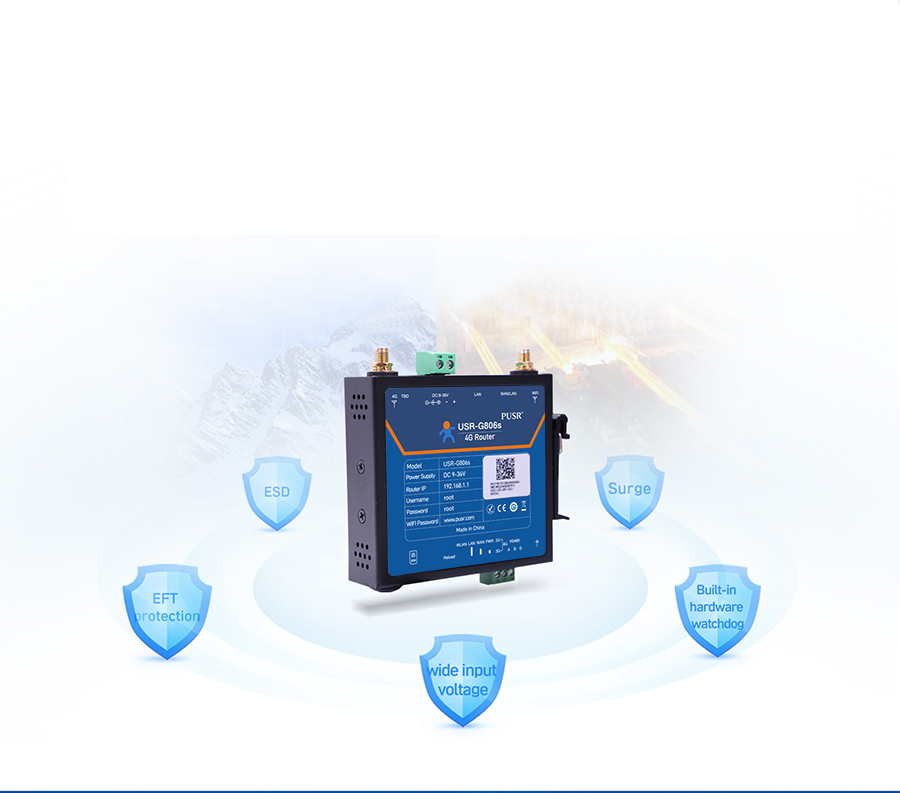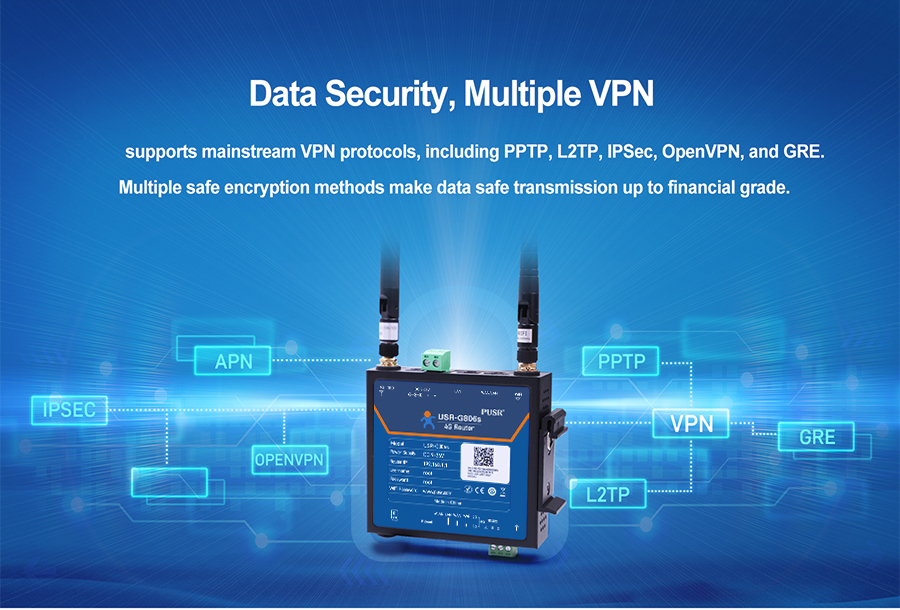 More Features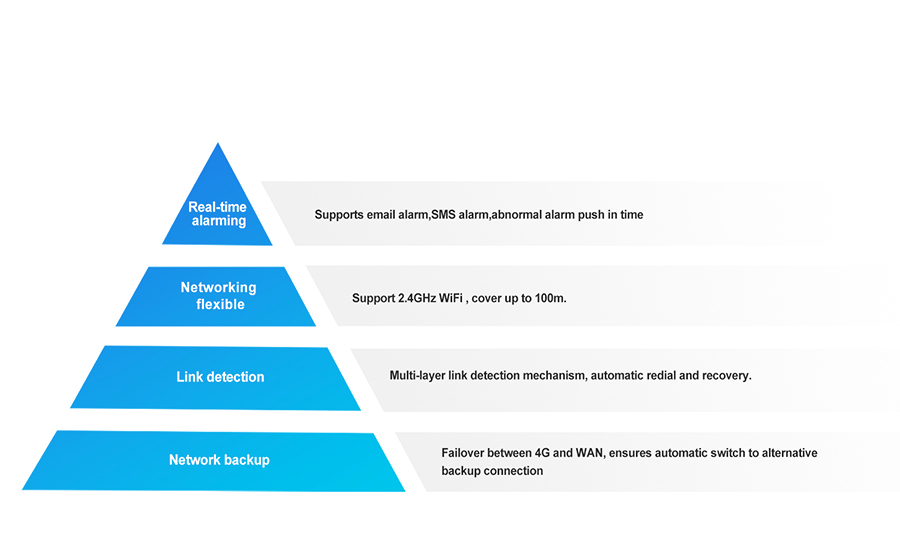 Product Details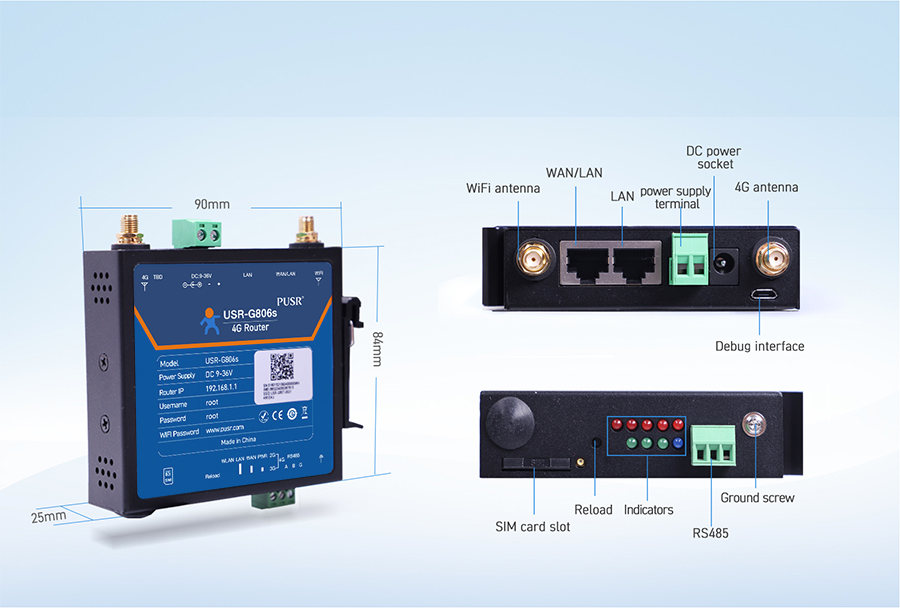 Application scenario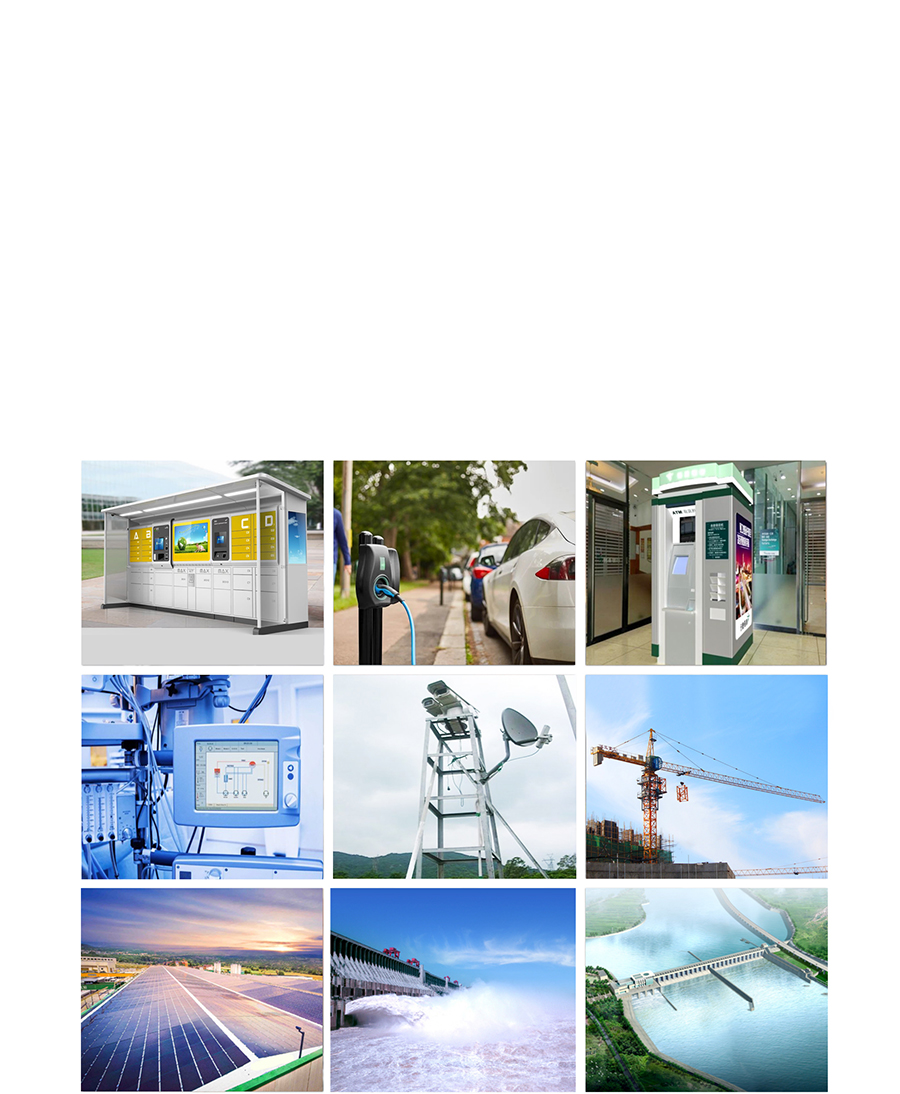 Industrial 4G Cellular Router G806s is a combination of 4G LTE router and 4G DTU.
Integrating embedded cellular modem, it provides 3G/4G cellular network. It is also equipped with 2 fast Ethernet ports, 1 RS485 interface (RS232 optional) and supports Wi-Fi access. Featuring a compact and rugged design, it can be used as a reliable failover connection or wireless communication in harsh environments. It is suitable for large-scale distribution of M2M/IoT applications, such as smart express cabinets, charging piles, CCTV, bank ATM machines, ticketing machines, traffic management, vending machines, medical device networking, tower monitoring, construction sites, digital signage, electricity, water conservancy, environmental protection, etc.
Smart Express Cabinet
G806s integrates routing and serial modem, which can not only provide network for industrial computer and camera, but also provides data interaction for door lock. When the user uses the smart express cabinet, the USR-G806s can enable the cabinet and the server to communicate in time and open the door of the box.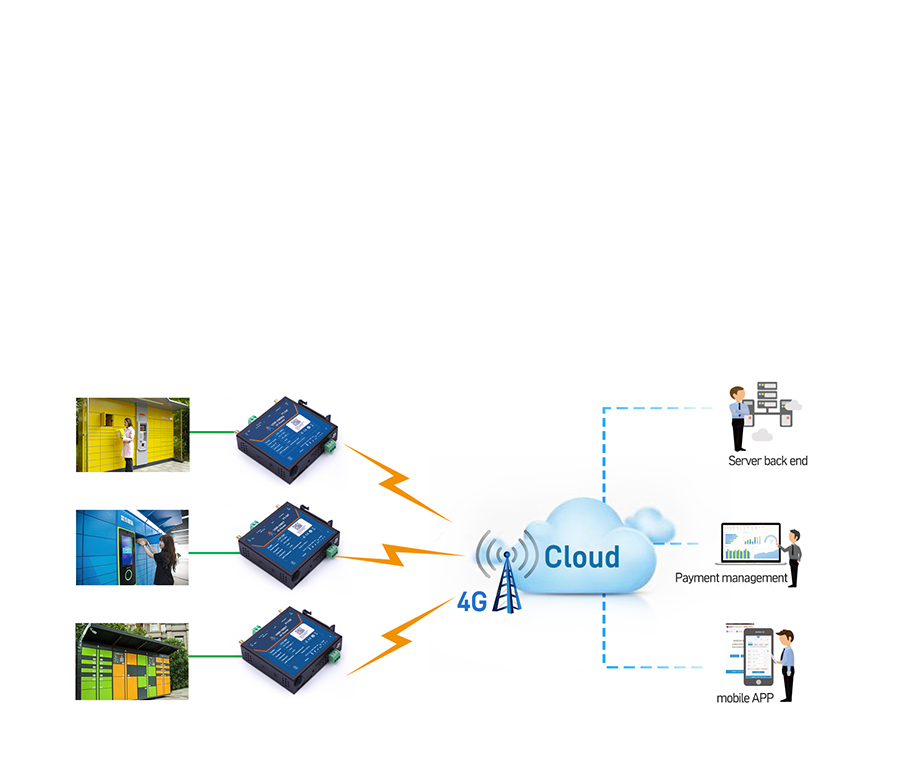 Hardware Specifications
Cellular
Interface
Antenna
1 x SMA-K
Note: North America models: 2 x SMA 4G antenna connectors.
SIM card
1 x (3 V & 1.8 V) Standard 2FF SIM, drawer-type sim
card slots
Ethernet
1 x WAN port (can be configured to LAN) 10/100 Mbps, compliance with IEEE 802.3, supports auto MDI/MDIX,1.5KV network isolation transformer protection
1 x LAN port, 10/100 Mbps, compliance with IEEE
802.3, IEEE 802.3u standards, supports auto MDI/MDIX,1.5KV network isolation transformer protection
Indicators
LED
PWR: always on after powered on
WLAN: always solid on when WiFi is enabled and working properly
WAN: solid when cable is connected, blinking
when data is transmitting and receiving
LAN:solid when cable is connected, blinking
when data is transmitting and receiving
2/3/4G mode indicator:
2G led is on after connected to 2G network
3G led is on after connected to 3G network
Both leds is on after connected to 4G network
Signal strength:4 solid bars,strongest signal
WiFi Interface
Standards & Frequency
IEEE 802.11b/g/n,2.4GHz, AP mode
Data speed
IEEE 802.11b/g,maximum 54Mbps.IEEE 802.11n,maximum 150Mbps
Antenna
1 x SMA-K
Transmission distance
80 meters by line of sight. Actual transmission
distance depends on environment of the site.
Power Supply
Adaptor
DC 12V/1A
Connector
DC Power Jack Barrel Type Female 5.5*2.1mm Round socket or 2 PIN 5.08mm industrial terminal block, reverse polarity protection
Input voltage
DC 9~36V
Working power
Average 270mA/12V
Serial Interface
RS485/RS232(alternative)
3 PIN 3.81mm industrial terminal block.
Note: RS485 default, RS232 please contact sales.
Baud rate(bps)
1200,2400,4800,9600,19200,38400,57600,
115200,230400
Data bits
8
Stop bits
1,2
Parity
NONE,ODD,EVEN
Physical
Characteristics
Housing
Metal shell, IP30
Dimensions
112.0*84.0*25.0 mm(L*W*H)
Installation Method
Panel mounting, DIN-Rail mounting
EMC
Static IEC61000-4-2, level 2
Pulsed Electric Field IEC61000-4-4, level 2
Surge IEC61000-4-5, level 2
Operating temperature
-20℃~+70℃
Storage temperature
-40℃~+125℃
Operating humidity
5%~95%RH(non-condensing)
OTHERS
Reload
Pinhole reset button
TBD
Debug interface (TTL Level)
Embedded Watchdog
Device runs self-detection, auto recovers from malfunctions
Certificate
CE,CCC
Software Specifications


Network
Connection
WAN protocol
PPP, PPPoE, DHCP client
LAN protocol
ARP, DHCP server, NAT
4G network access
Auto APN/VPDN, private network
Access authentication: CHAP/PAP
WLAN security
Open system,WPA/WPA2 PSK
TKIP/AES encryption
IP routing
Static routing
Network diagnosis
Ping, route trace, DNS
Serial Modem
Work mode
NET, HTTPD
Sockets
4 sockets,4 centers ,TCPS(SOCKA)/TCPC/UDPS/UDPC
Modbus RTU to TCP
Support
Device
management
Configuration
Web
Remote management
Telnet, SSH, AT command,SNMP
PUSR platform
Remote monitoring, remote upgrade, alarming, base station location, remote access to web pages of the router
Security
Failover backup
Failover between 4G and WAN, ensures automatic switch to alternative backup connection
Firewall
DMZ, anti-DoS, Filtering (IP/Domain name/MAC address), Port Mapping, Access Control
VPN
Supports PPTP, L2TP, GRE, IPSEC VPN (IKEv1), OPENVPN protocols
Service
DDNS
Remotely access the device through domain name
Alarm
Email, SMS
Others
NTP client
Timing task
Region
EMEA & Australia & Latin America & New Zealand
Frequency
TDD-LTE
B38/B40/B41
FDD-LTE
B1/B3/B5/B7/B8/B20/B28
WCDMA
B1/B5/B8
GSM/GPRS/EDGE
850/900/1800MHz
Request a Quote