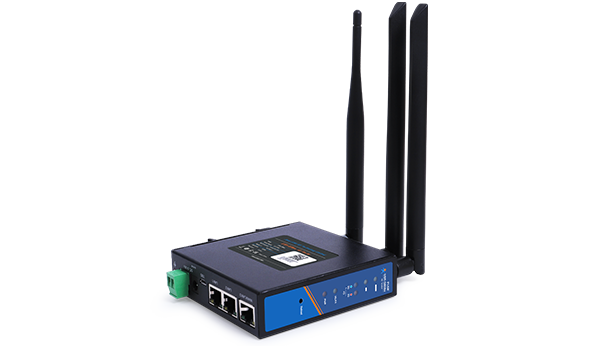 USR-G806W Qualcomm Chipset Industrial LTE Router
Embedded hardware watchdog
ESD, Surge, EFT protection
Wide Operating Temperature
Supports IPsec VPN, PPTP, L2TP, OPENVPN, GRE, etc., ensuring secure data transmission
Equipped with strong WiFi capability, 802.11 a/b/g/n, 2.4G Wi-Fi, 2*2 MIMO, up to 300Mbps
Support AP/STA/Repeater Mode
Support SNMP, VLAN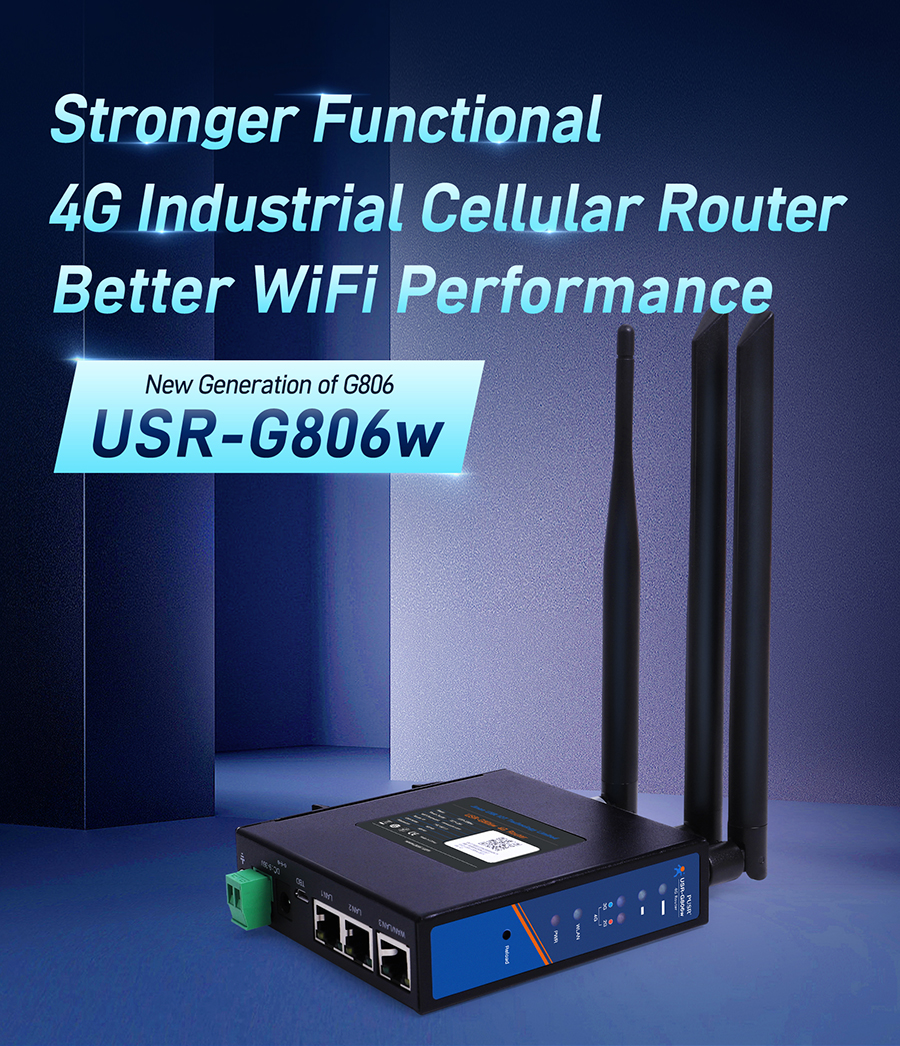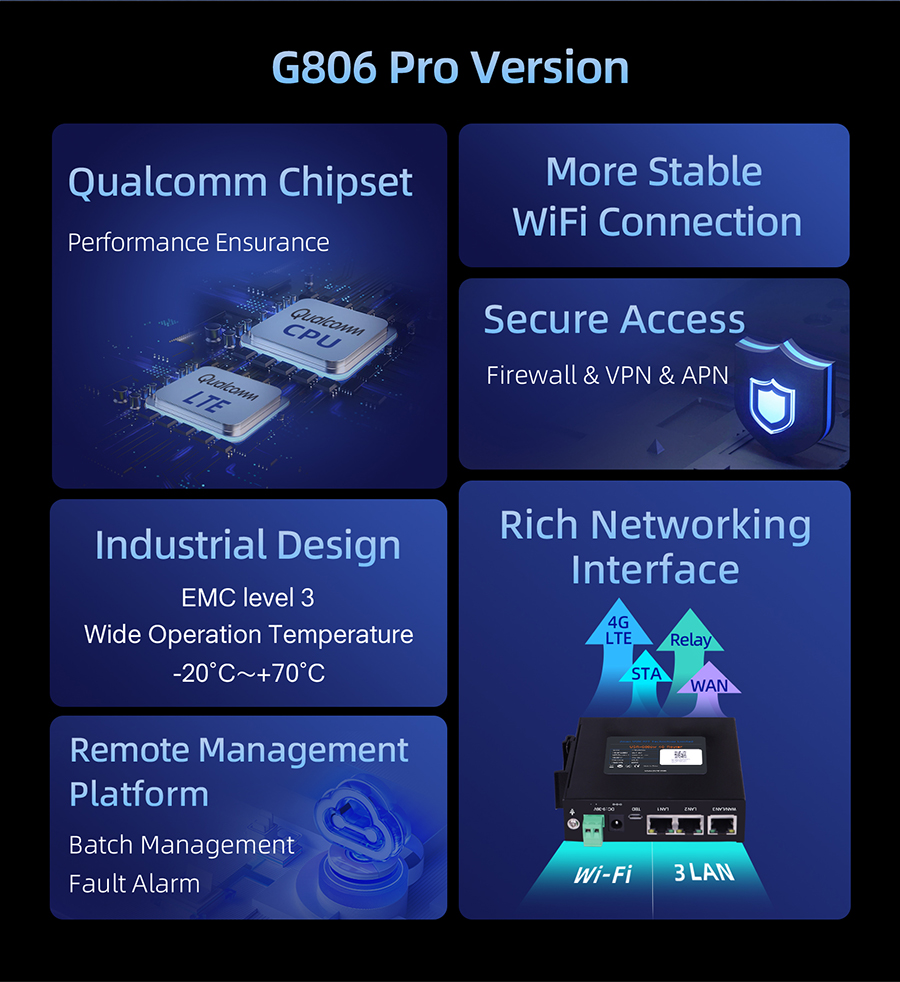 Ordering Guide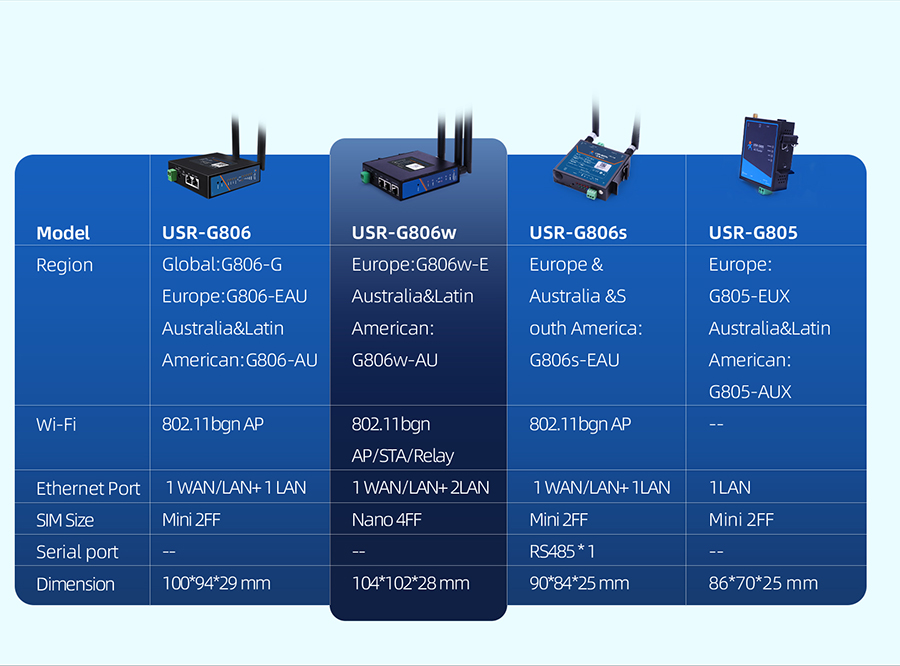 Your Data Security, Our Responsibility
Comprehensive VPN protocols support ensures your data security, including OpenVPN, IPsec, PPTP, L2TP and GRE.
Multiple encryption method make financial-grade data transmissible.
Enhanced OpenVPN Design
Professional and Ease of Usage
Allows connection to three different OpenVPN servers as a client and also functions as an OpenVPN server.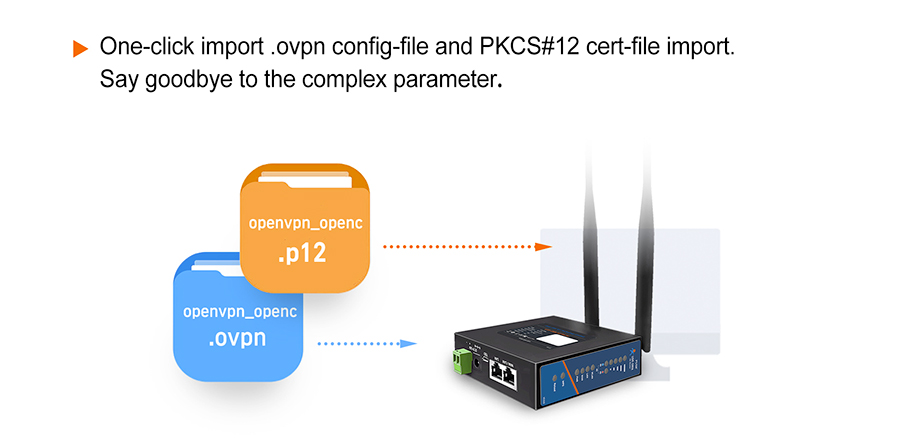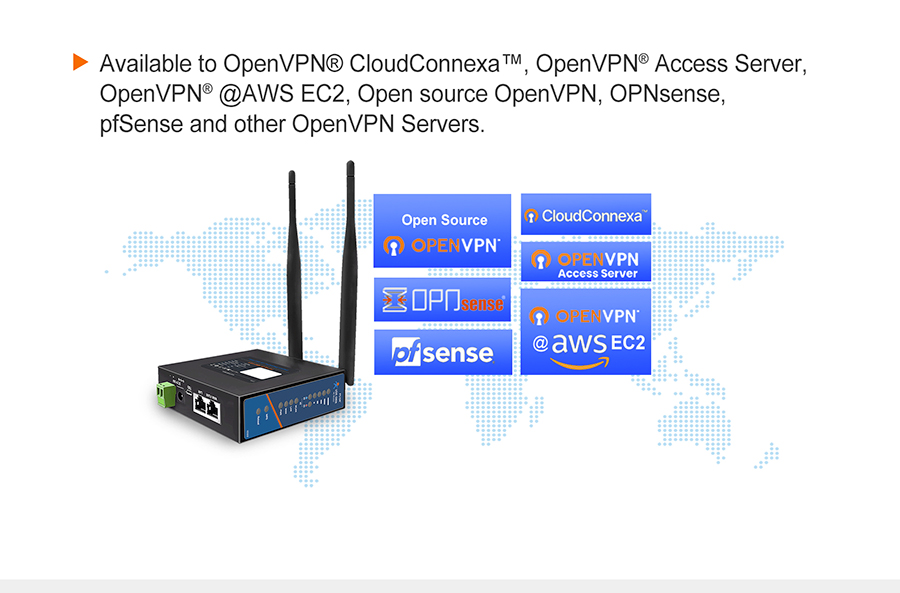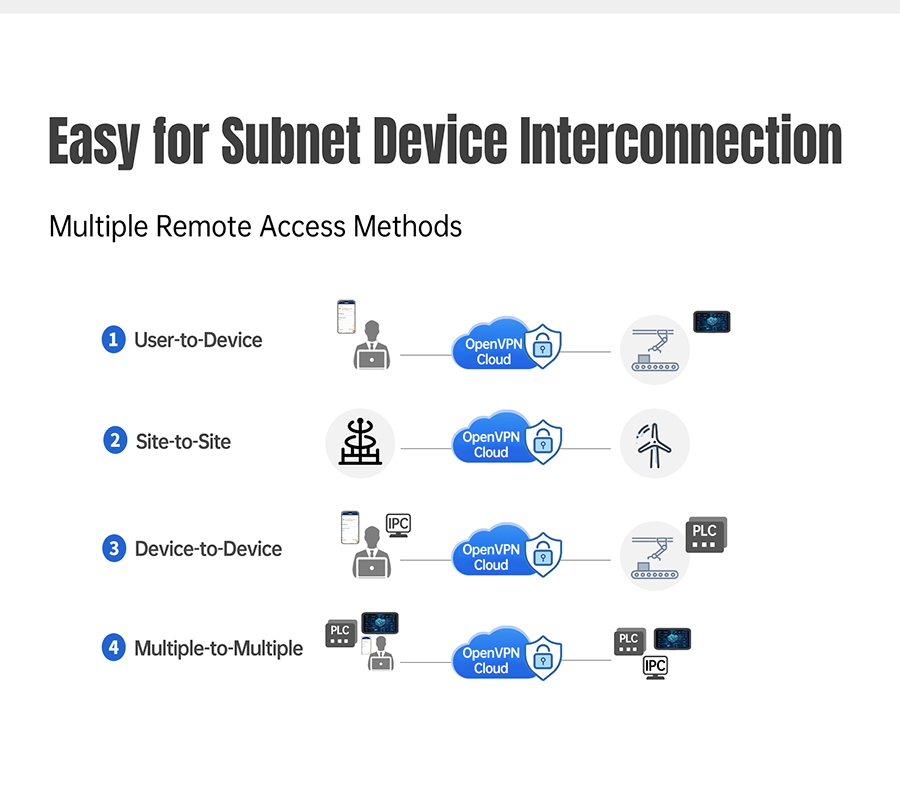 Qualcomm Solution Performance Assurance
The core Wi-Fi chip (master control) and 4G cellular module adopt the industry-leading Qualcomm solution to ensure the performance and stability of the device during usage.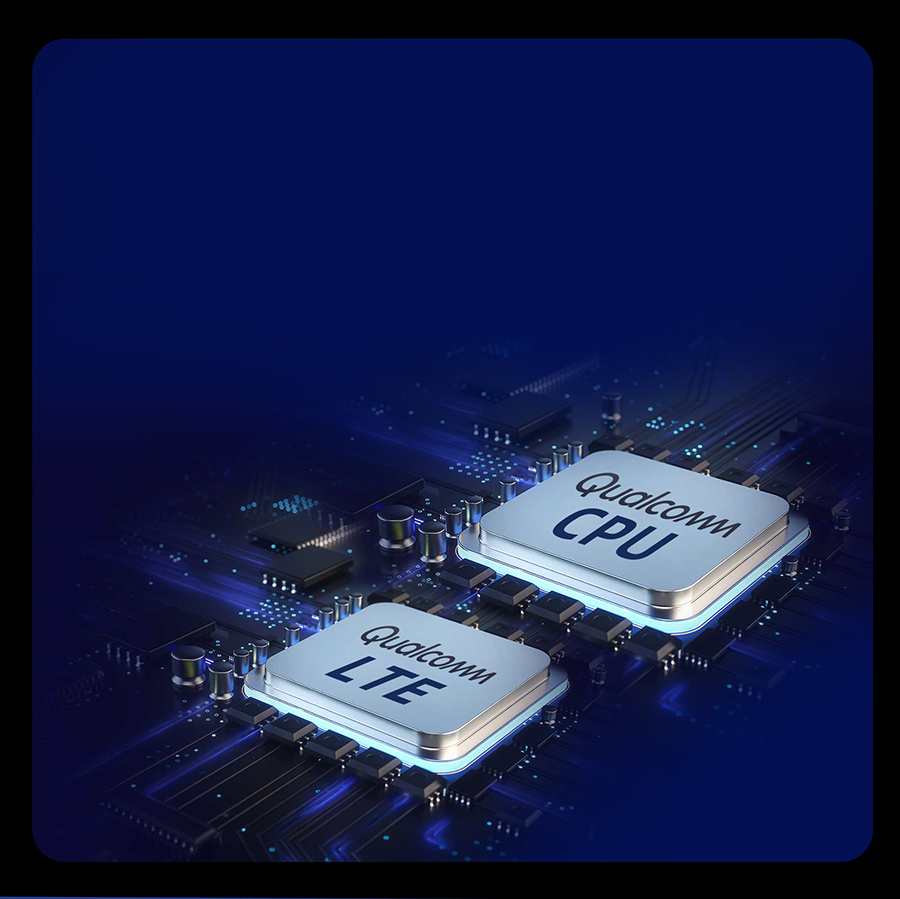 WiFi Enhance, More Coverage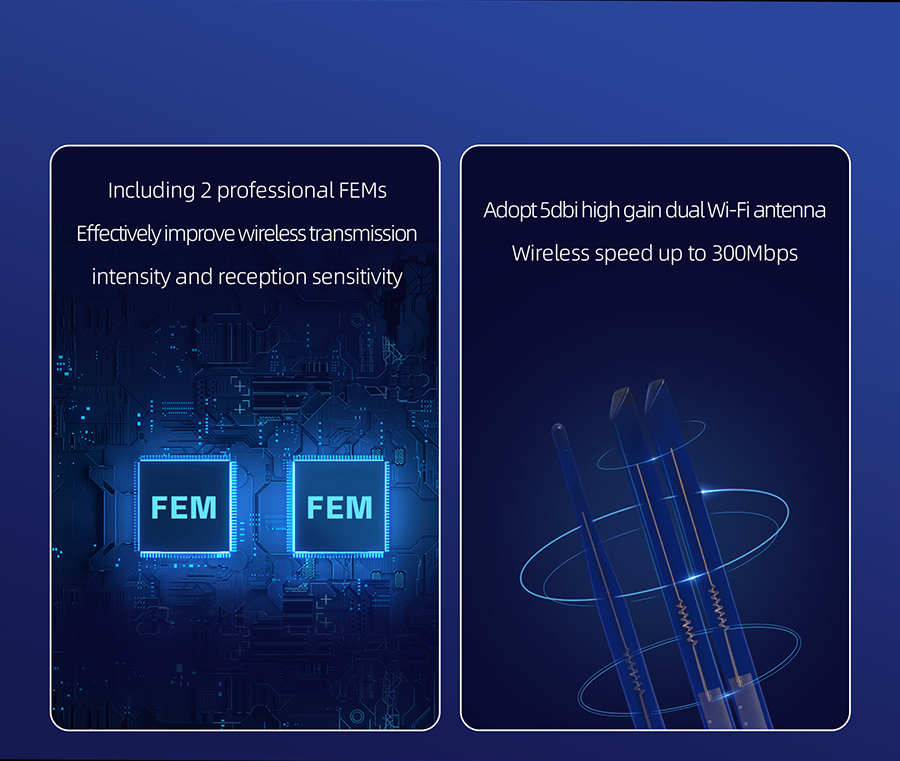 Multiple Networking Failover and Backup
Cellular, wired and Wi-Fi internet access modes can be switched freely. Service can be recovered in time when a network exception occurs. Ethernet & Wi-Fi terminal can connect to the router for data transmission.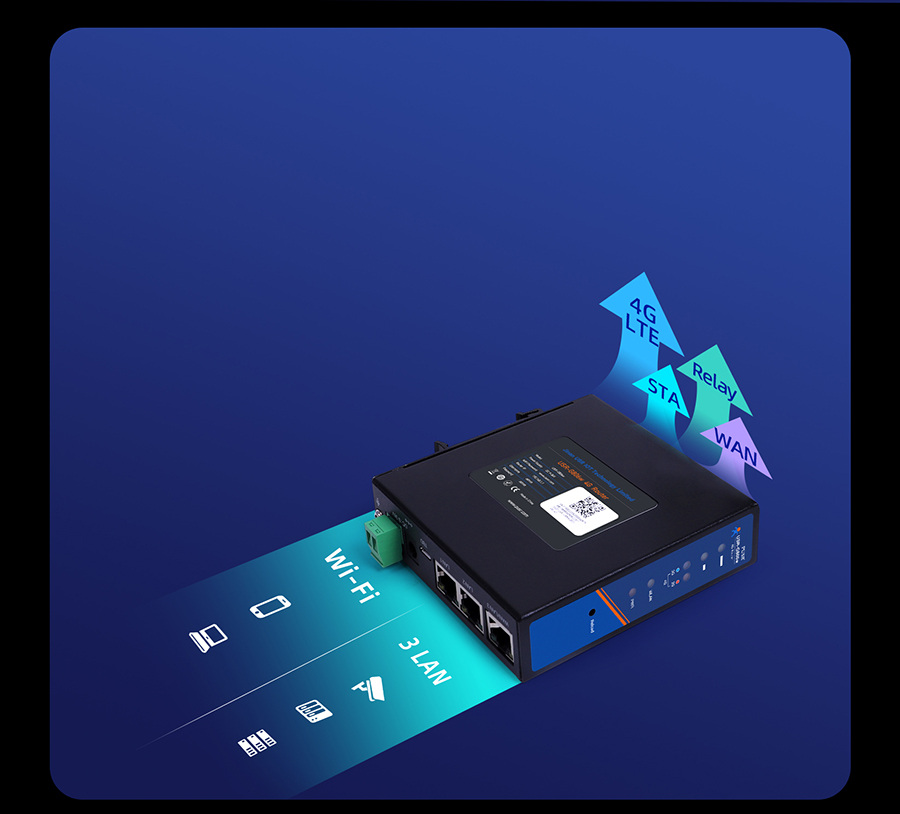 Remote Management Anytime, Anywhere
PUSR Remote Management platform is an all-in-one user-friendly loT platform providing a smart way to manage your device remotely, securely and reliably.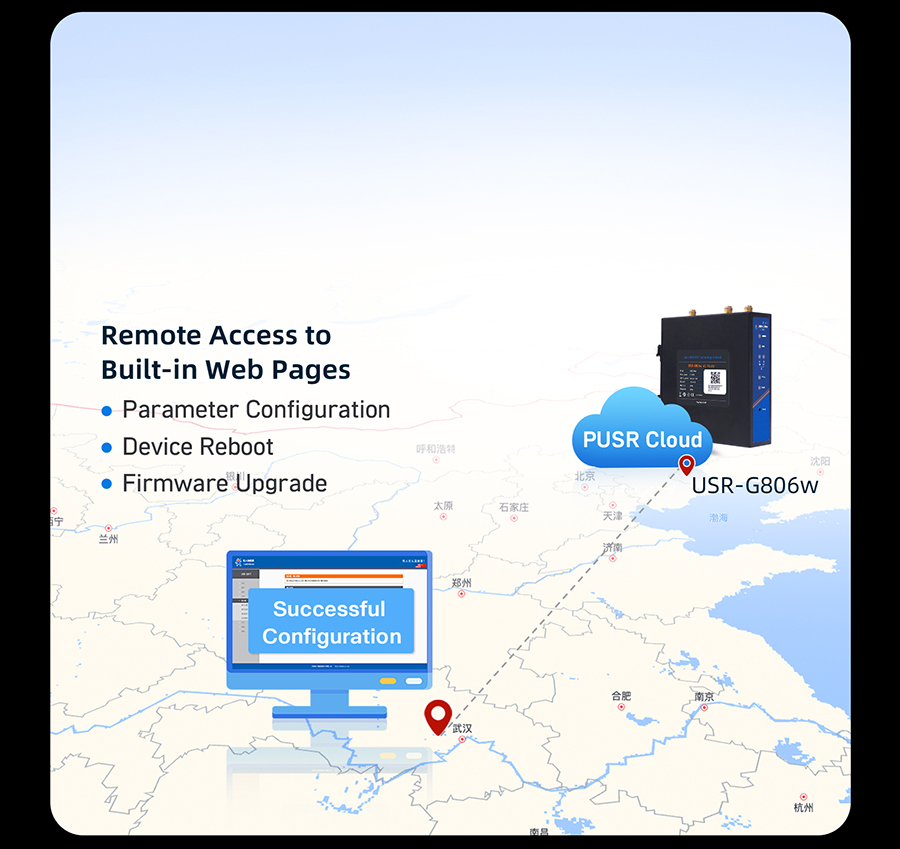 Network Abnormal Real Time Alarming
1. Device offline alarm, weak signal alarm, network traffic overrun. All of this can be alarmed in real time.
2. Multiple alarm push ways such as E-mail, SMS. Repeated push supported.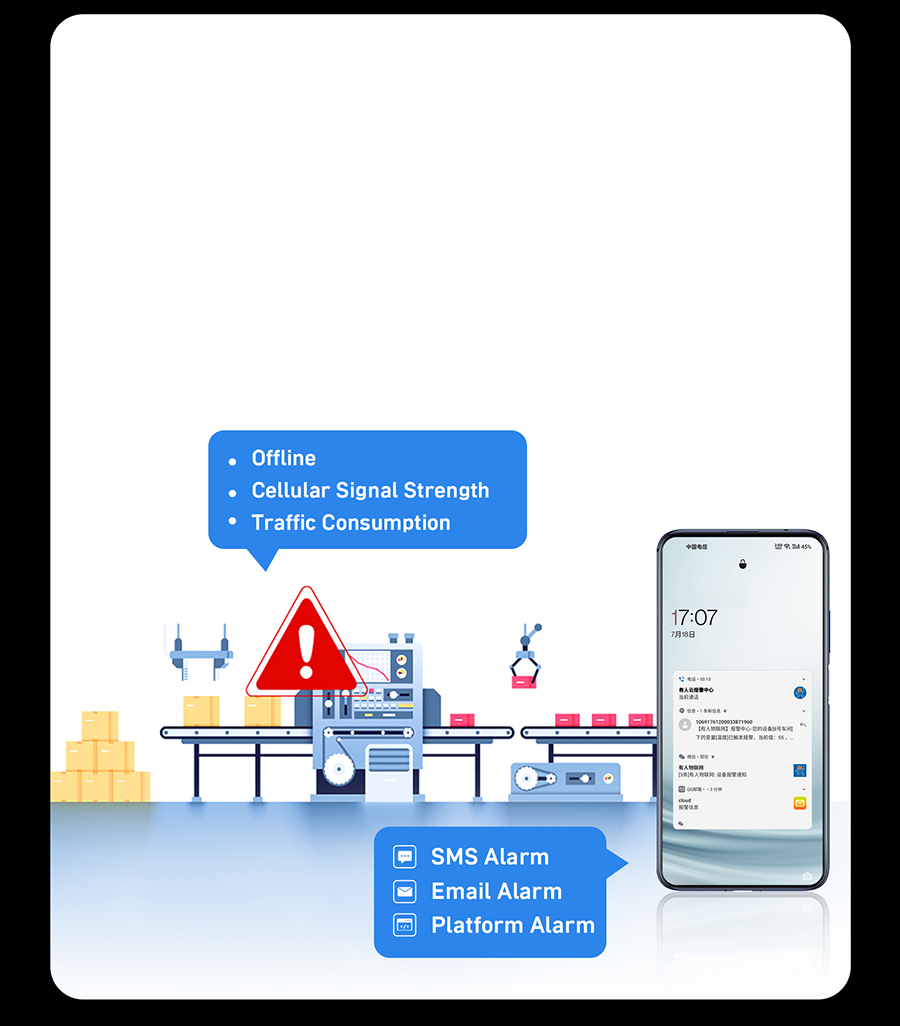 Data Security, Multiple VPN Support
G806W supports mainstream VPN protocols, including PPTP, L2TP, IPSec, OpenVPN, and GRE.
Multiple safe encryption methods make data safe transmission up to financial grade.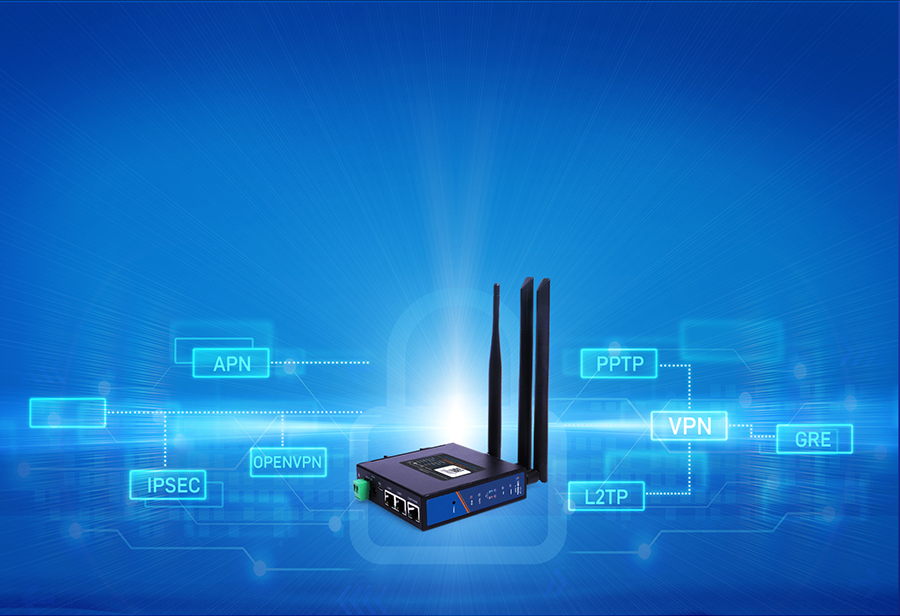 Industrial Grade Design High Reliability
Watchdog
Hardware & software dual watchdog. 7*24h stable operation without downtime.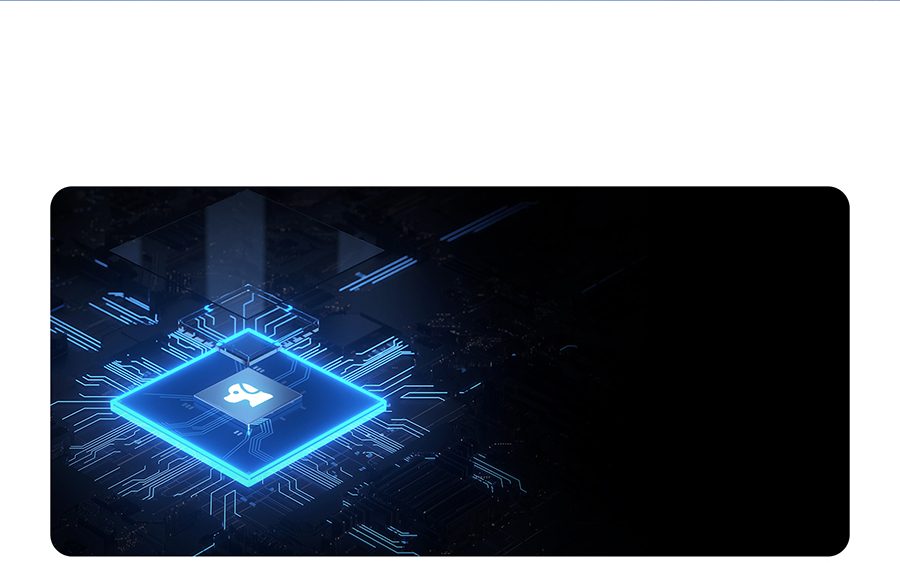 Surge/EFT Protection
Protects devices against damage caused by instantaneous current interference in circuit, such as lightning stroke, power switch, etc.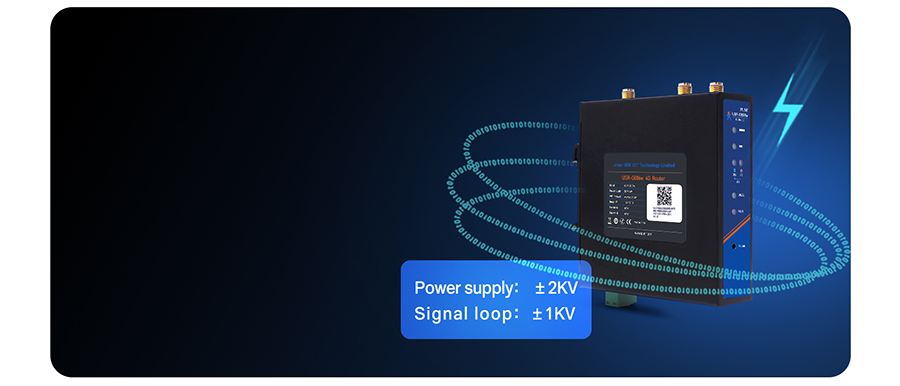 ESD Protection
Prevent electrostatic damage to equipment, such as human
electrostatic, dust electrostatic, electric arc, etc.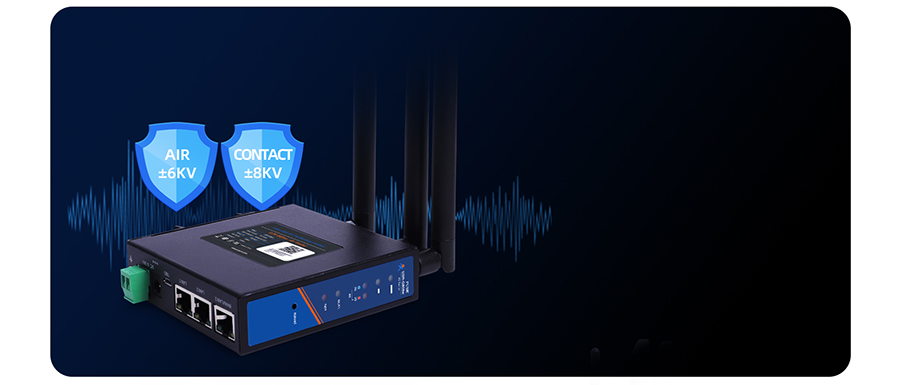 Wide Operation Temperature
-20℃ ~ +70℃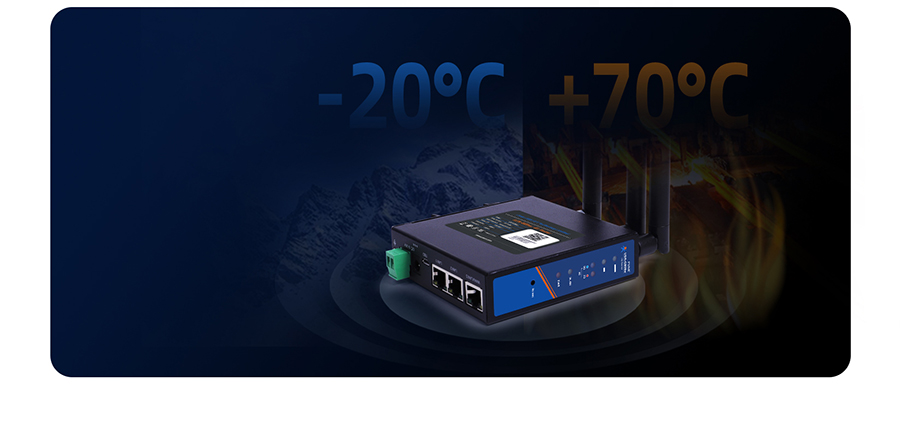 Wall Mounting & DIN Rail Mounting All Available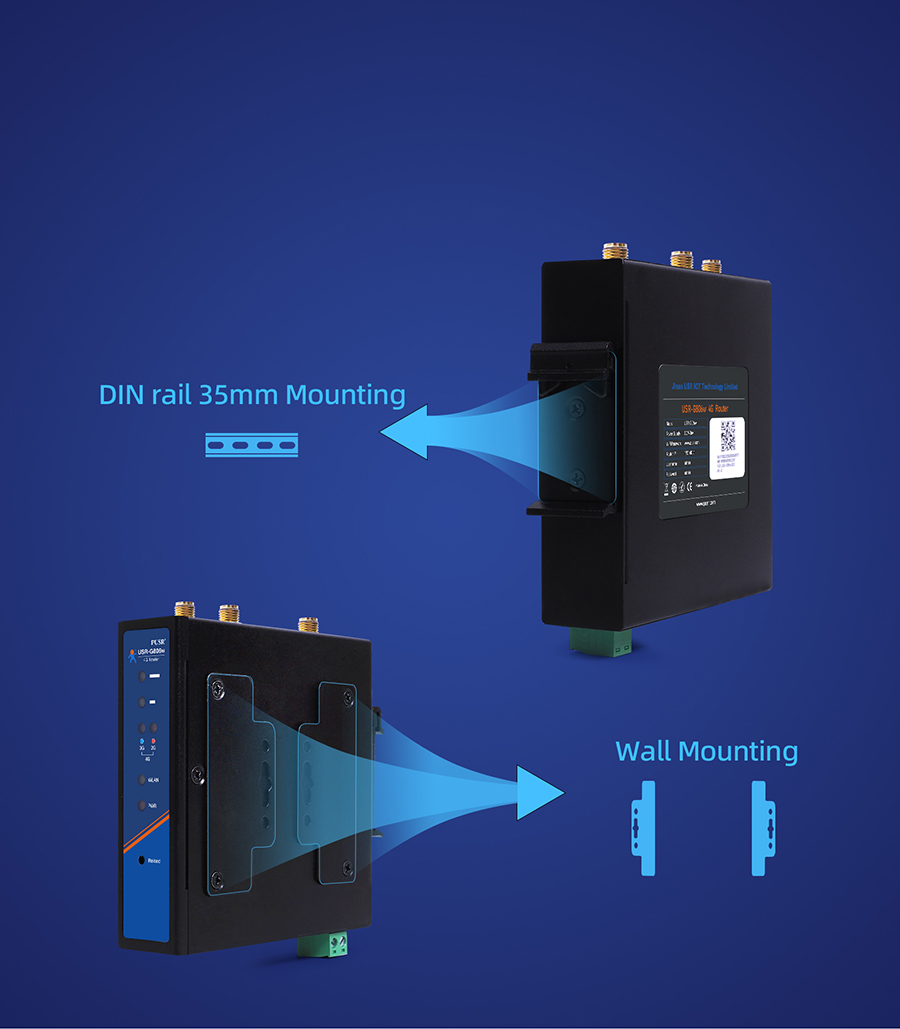 Product Details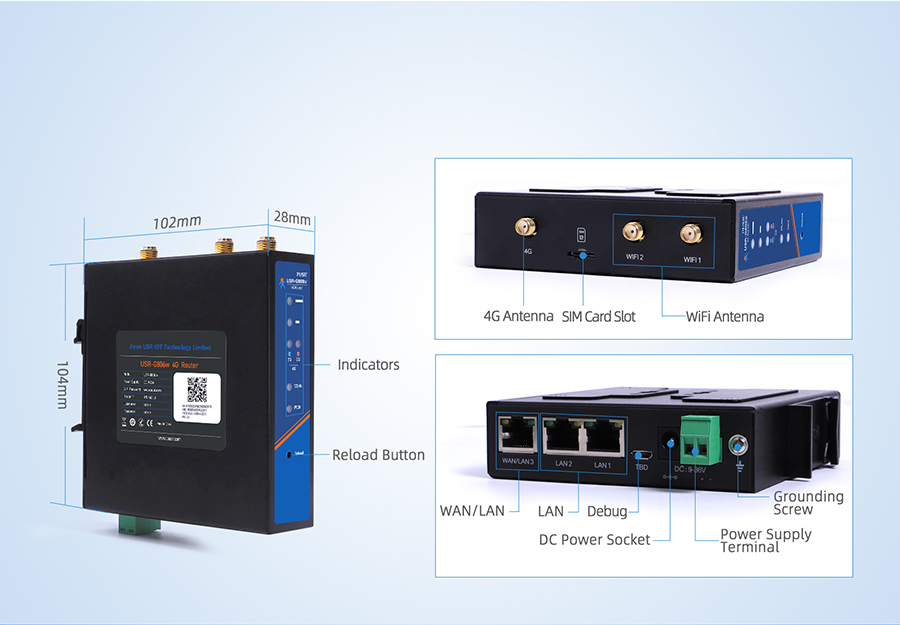 Packaging List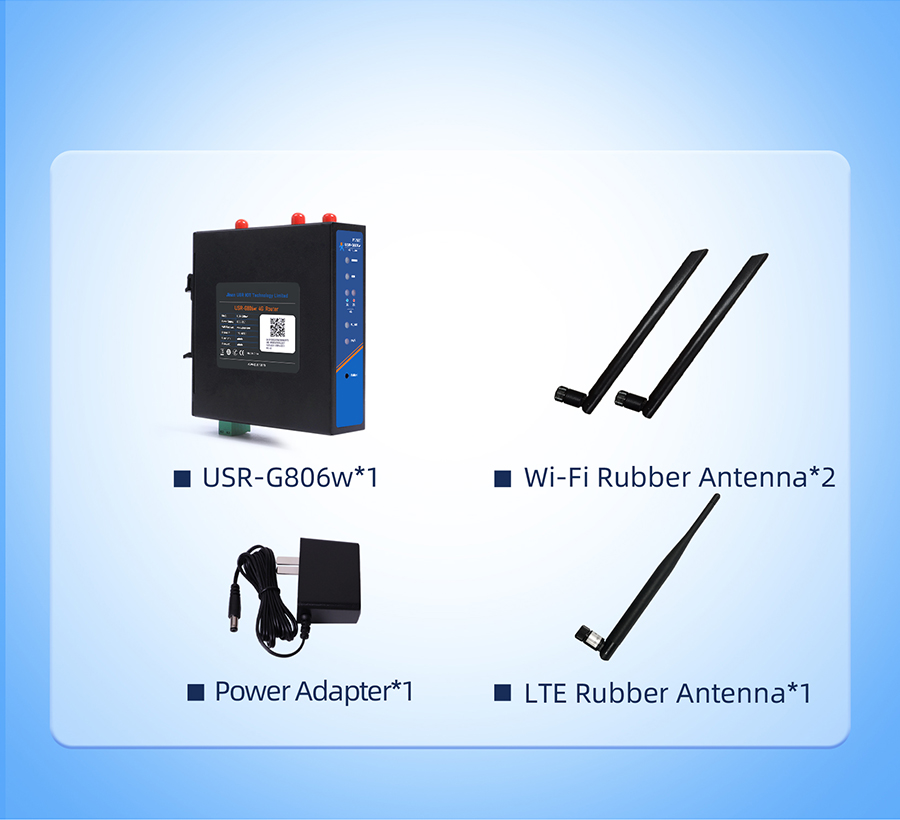 Ideal Applications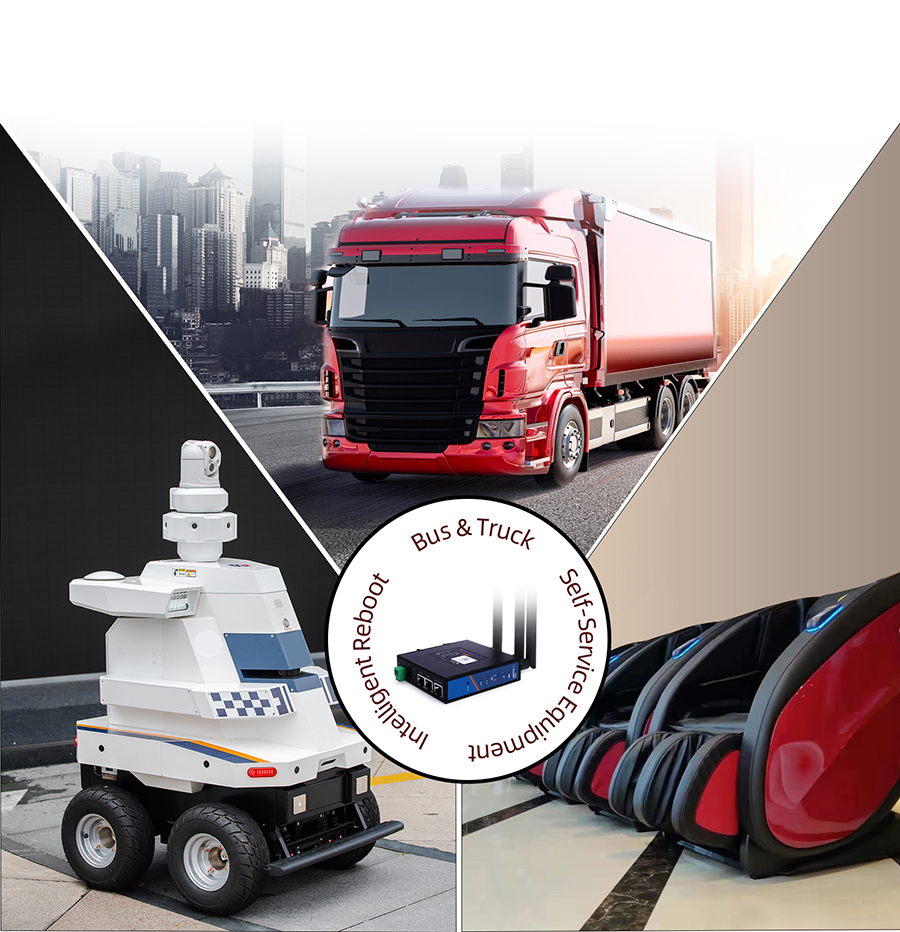 Hardware Specifications
Cellular Interface
Frequency
-E
-AU
TDD-LTE:B38/40/41FDD-LTE:B1/3/7/8/20/28AWCDMA:B1/8GSM/EDGE:B3/8
TDD-LTE:B40FDD-LTE:B1/2/3/5/7/8/28WCDMA:B1/2/4/5/8GSM/EDGE:B2/3/5/8
Antenna
1 x SMA-K
SIM card
1 x (3 V & 1.8 V) Standard 4FF SIM
Ethernet
WAN
1 x WAN port (can be configured to LAN) 10/100 Mbps, compliance with IEEE 802.3, supports auto MDI/MDIX,1.5KV network isolation transformer protection
LAN
1 x LAN port, 10/100 Mbps, compliance with IEEE 802.3, IEEE 802.3u standards, supports auto MDI/MDIX,1.5KV network isolation transformer protection
Indicators
PWR
Red, always on after powered on
WIFI
Green, always solid on when WiFi is enabled and working properly
2/3/4G mode indicator
2G led is on after connected to 2G network
3G led is on after connected to 3G network
Both leds is on after connected to 4G network
SIG
Signal strength:2 LED issolidon, strongest signal
Wi-Fi
Standards & Frequency
IEEE 802.11b/g/n, 2.4GHz, AP/STA/Repeater mode
Data speed
300Mbps
Antenna
2 x RP-SMA-K
MIMO
2×2
Transmission distance
500 meters by line of sight. Actual transmission distance depends on environment of the site.
WiFi users
Up to 20 simultaneous connections
Power Supply
Adaptor
DC 12V/1A
Connector
DC Power Jack Barrel Type Female 5.5*2.1mm Round socket or 2 PIN industrial terminal block, reverse polarity protection
Input voltage
DC 9-36V
Power consumption
Average 260mA/12V
Physical Characteristics
Casing material
Metal shell, IP30
Dimensions
104.0*102.0*28.0 (L*W*H, antenna pedestal, terminal block and DIN Rail are not included)
Installation
Panel mounting, DIN-Rail mounting
EMC
Static IEC61000-4-2, level 3
Pulsed Electric Field IEC61000-4-4, level 3
Surge IEC61000-4-5, level 3
Operating temperature
-20℃~+70℃
Storage temperature
-40℃~+125℃(non-condensing)
Operating humidity
5%~95%(non-condensing)
Others
Reload
Pinhole reset button
TBD
Debug interface (TTL Level)
Ground protection
Screw
USR-G806w Software Specifications
Network Connection
WAN protocol
PPP, PPPoE, DHCP client
LAN protocol
ARP, DHCP server, NAT,VLAN
4G network access
Auto APN/VPDN, private networkAccess authentication: CHAP/PAP
WLAN security
Open system,WPA/WPA2 PSKTKIP/AES encryption
IP routing
Static routing
Network diagnosis
Ping, route trace, DNS
Device management
Configuration
Web
Remote management
SSH, AT command,SNMP,SMS
PUSR platform
Remote monitoring, remote upgrade, alarming,base station location, remote access to web pages of the router
Security
Failover backup
WiFi WAN, Mobile, Wired options, each of which can be used as an automatic Failover
Firewall
DMZ, anti-DoS, Filtering (IP/Domain name/MAC address), Port Mapping, Access Control
VPN
Supports PPTP, L2TP, GRE, IPSEC VPN (IKEv1), OPENVPN protocols
Service
DDNS
Remotely access the device through domain name
Alarm
Email, SMS
Others
NTP clientTiming task
Request a Quote