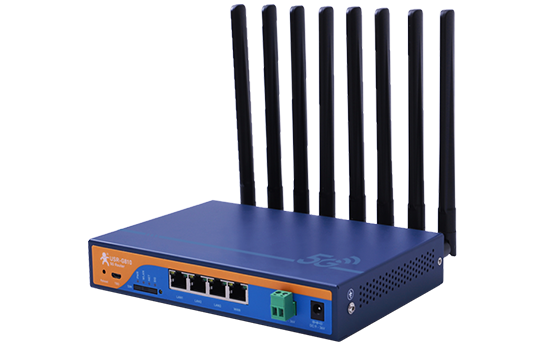 USR-G810 (Industrial 5G Cellular Router)
Supports multiple VPN protocols such as PPTP, L2TP, IPSec, OpenVPN, GRE and Cryptogram
Supports NSA and SA modes,Backward compatible with 4G/3G network stability
1.5KV network isolation transformer protection
Static IEC61000-4-2, level 2
Pulsed Electric Field IEC61000-4-4, level 2
Surge IEC61000-4-5, level 2
Hardware Watchdog
Auto failover between Ethernet, Wi-Fi
Supports 1*WAN, 3*LAN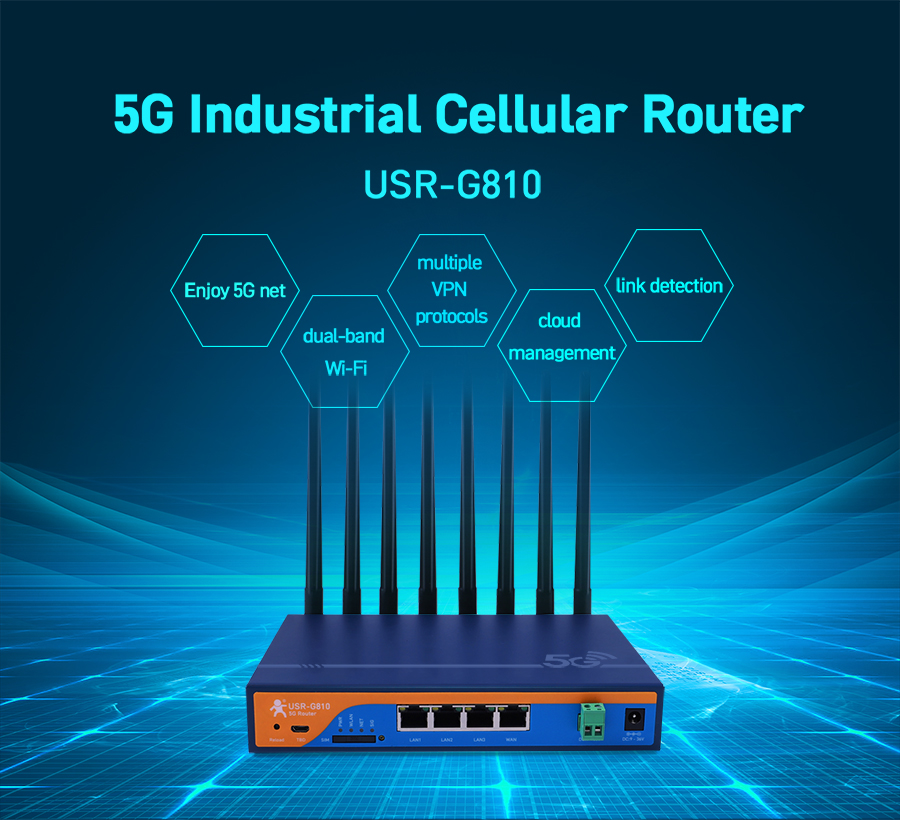 Enjoy ultra-fast broadband access with 5G cellular network
G810 supports NSA and SA modes, compatible with various operators
4 Gigabit Ethernet ports, high wire-speed connection
High-performance hardware platform, more powerful computing capabilities
6 high-gain, omni-directional antennas effectively improve data transmission and reception capabilities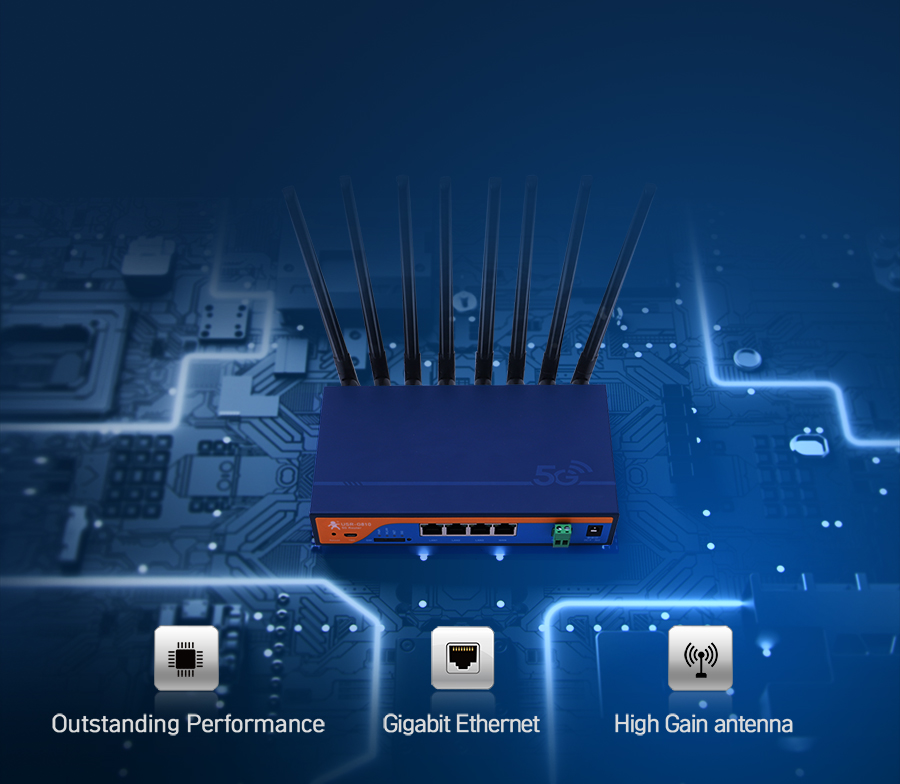 802.11 b/g/n/ac,flexible connection
Supports dual band (2.4 GHz and 5.8 GHz) Wi-Fi concurrently which delivers extremely fast speeds of up to 1167 Mbps (dual band), unassailable in any network environment
Coverage radius up to 200 meters by line of sight in outdoor environments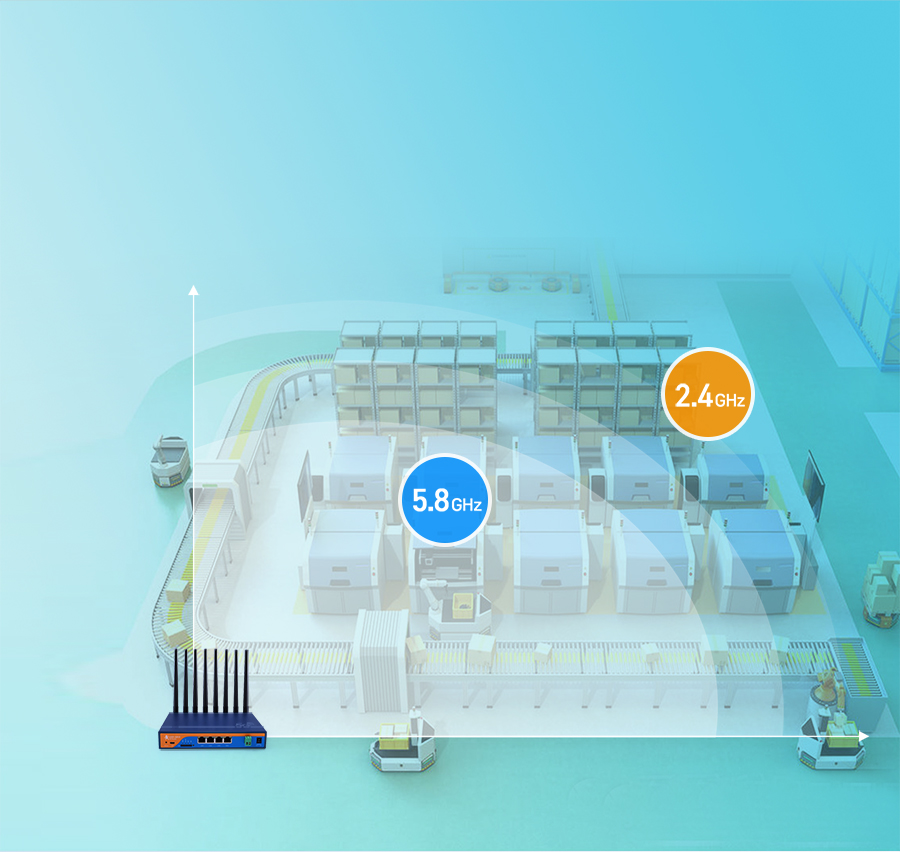 High Reliability and Stability, 7/24 connection
Full industrial grade design, rugged metal casing, lP30 protection rate, wide temperature and voltage ranges, high protection level, can easily withstand harsh and complex factory environments.
Built-in watchdog, fault self-detection & self-recovery functions, maintain stability and reliablility at all times.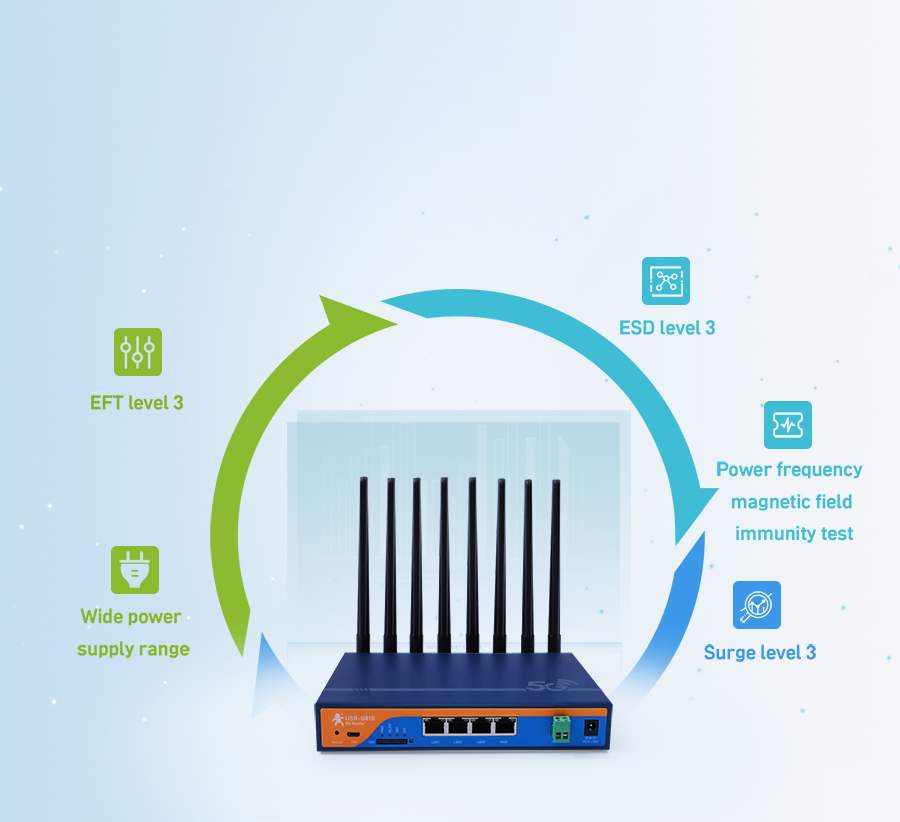 Small size, Big intelligence
Supports Gigabit Ethernet ports, 5G/4G cellular network, dual-band Wi-Fi, VPDN/APN.
Supports export/import configuration file
Flexibility in deployment
With link detection function and anti-drop mechanism to ensure user always remains online
High speed, low latency, massive capacity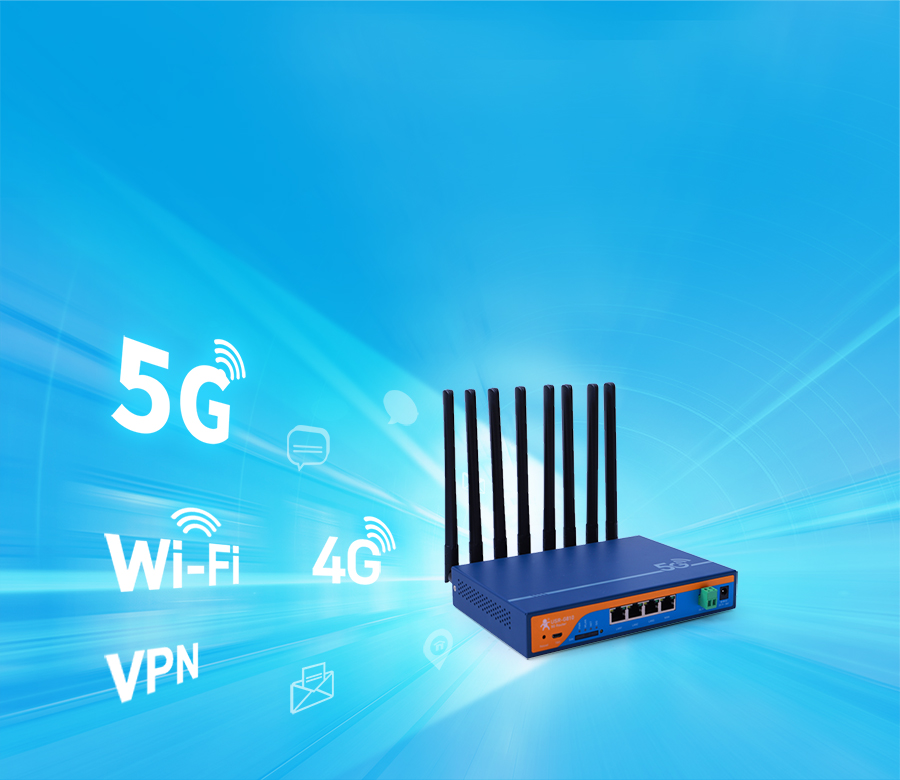 Strong Security Protection
Supports carrier private network access, using financial-level data security standards
Automated fail-over/fail-back between Ethernet and Cellular, ensuring stable transmission
Supports IPSec VPN, PPTP, L2TP, OPEN VPN, GRE firewalls for network security, multi-layer
authorization and encryption mechanism, ensuring secure data transmission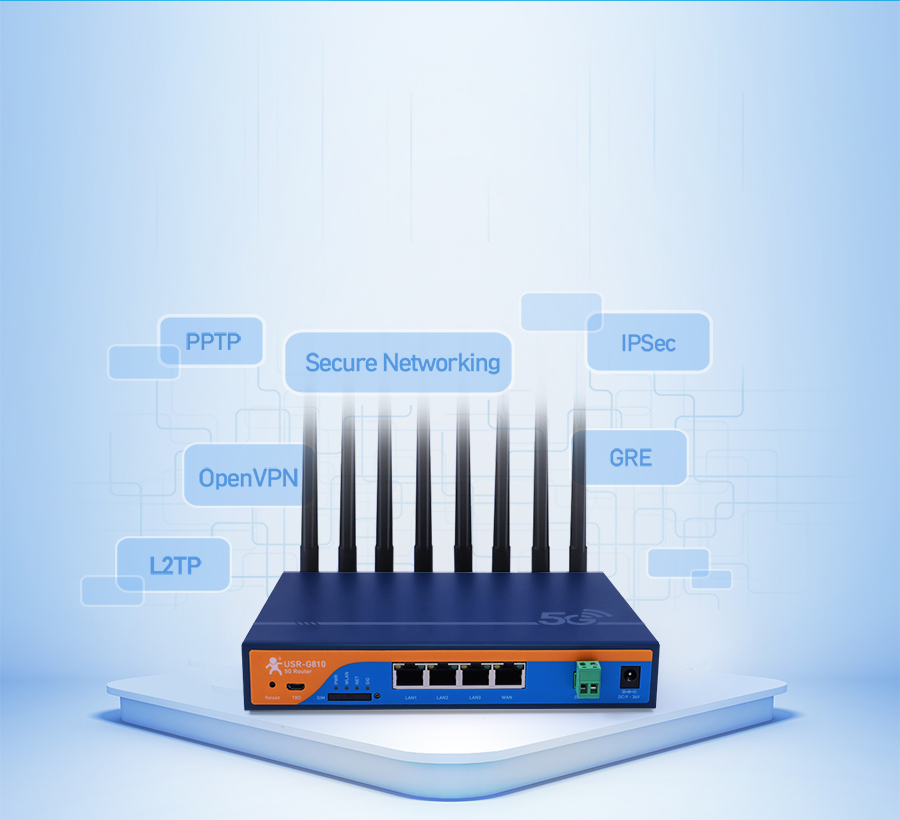 Device management platform
Free cloud platform device manager enables you to monitor and configure thousands of
routers with minimum effort. Users can easily implement remote operation and maintenance such as remote access, log view, firmware upgrade and parameters reconfiguration without the need for technicians' assistance for on-site maintenance.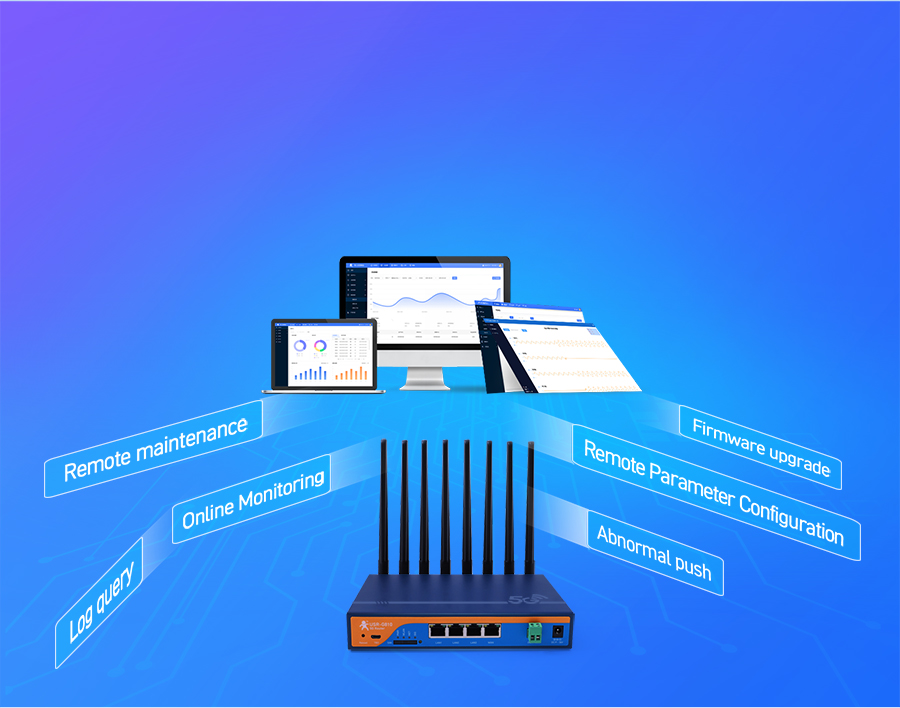 Product Details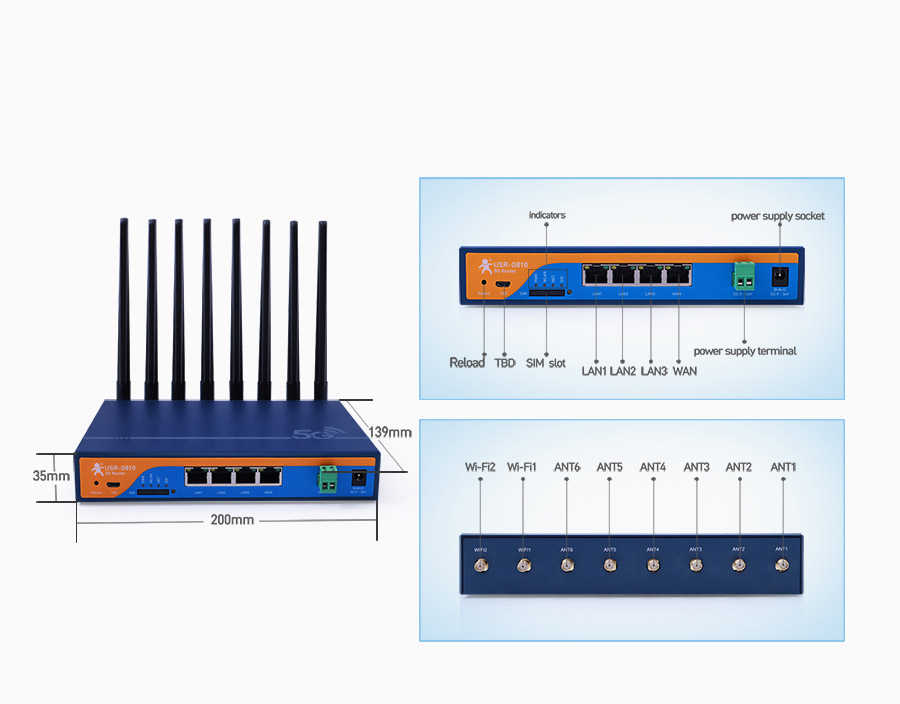 Applications
Factory AGV trolley transportation
As a new intelligent transportation tool, AGV trolleys enable the control center to instantly understand the logistics handling time, parking location and movement trajectory of AGV, using high-quality, low-latency 5G network services. In special environments such as high temperature and high pressure, the operator realizes real-time and remote control of the AGV trolley with the help of G810, making human-machine collaboration safer and more efficient.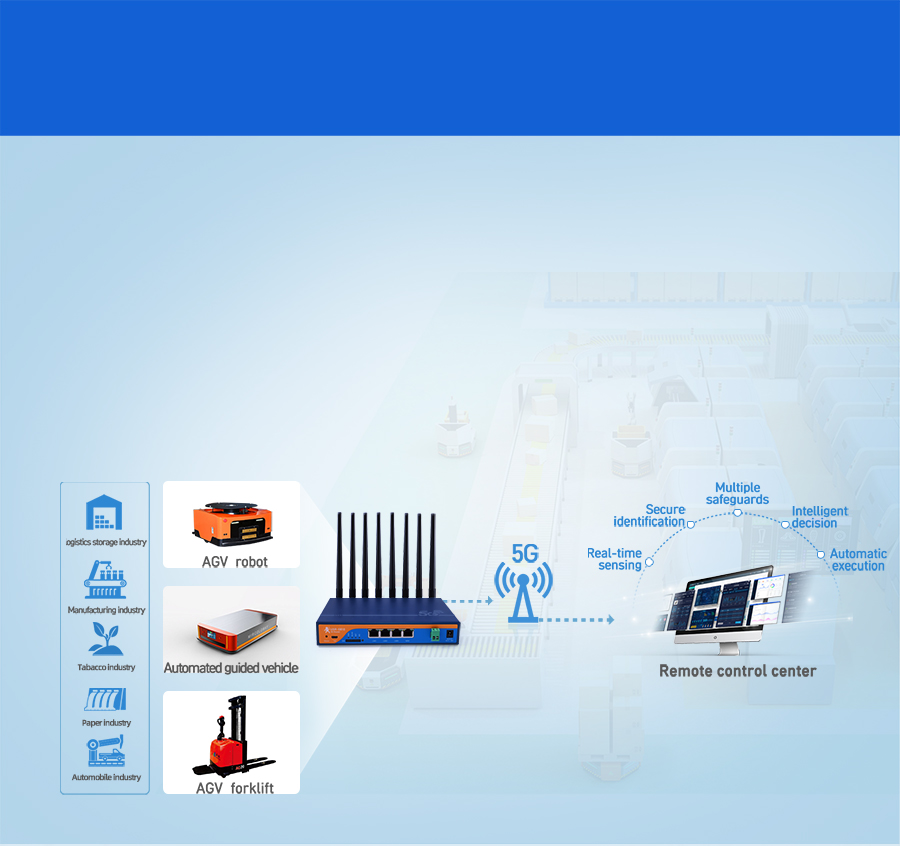 Smart robot 5G transmission
The intelligent robot is equipped with sensors such as lidar, high-resolution camera, and infrared sensor. With the help of G810's high-speed and low-latency 5G network, the video's high-resolution images and environmental data are transmitted back in real time, enabling rapid interaction with the cloud control center, executing failure analysis judgment and real-time processing, performing power inspections, tunnel detection, security patrols, cleaning and disinfection, and takeaway delivery, etc., in a more intelligent manner.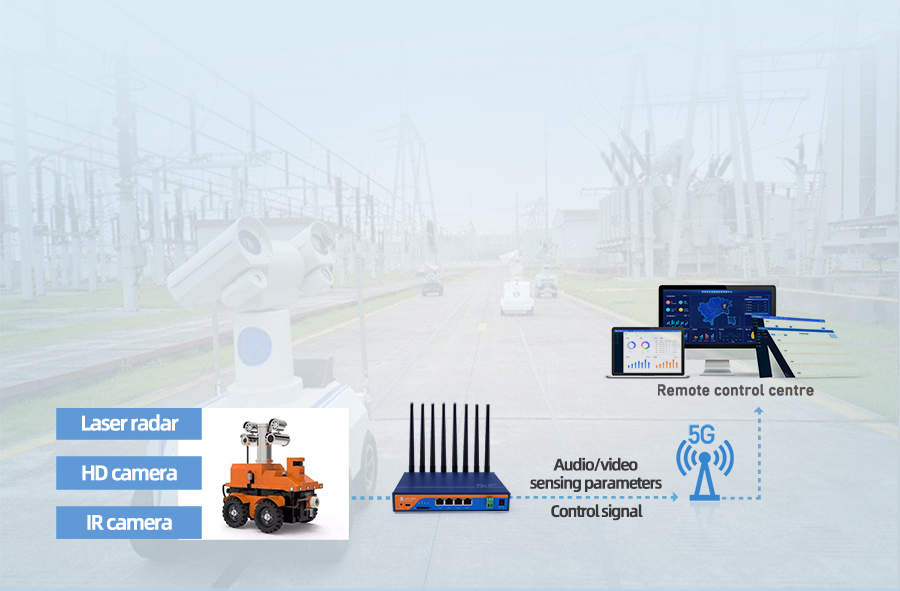 Automated factory 5G transmission
G810 supports multiple internet access such as wired/5G network connection online and facilitates intelligent switching simultaneously through dual-band Wi-Fi. Automated factories can choose 5G routers as backup lines beside the optical fiber network. Sensors, production lines, robotic arms and industrial cameras utilise 5G networks to achieve high-speed interaction with the manufacturing cloud. Monitoring through a large screen in control center and remotely controlling them through a tablet greatly improves the efficiency of production management.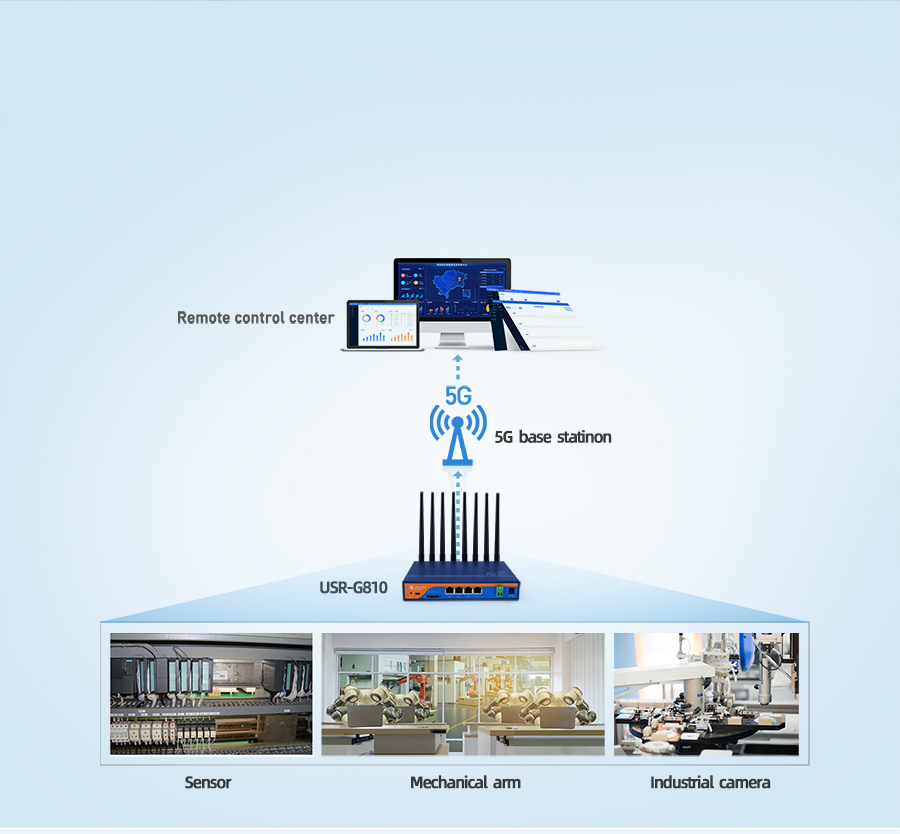 Emergency rescue 5G transmission
G810 provides a stable and high-speed network environment for the interconnection, intercommunication, and interoperation for applications among emergency command platforms, such as video-conferencing, vehicle terminals, through the utilisation of various systems and equipment that enable the visualization of emergency command, on-site image dispatch, and remote video consultations to achieve rapid response and scientific decision-making to emergencies.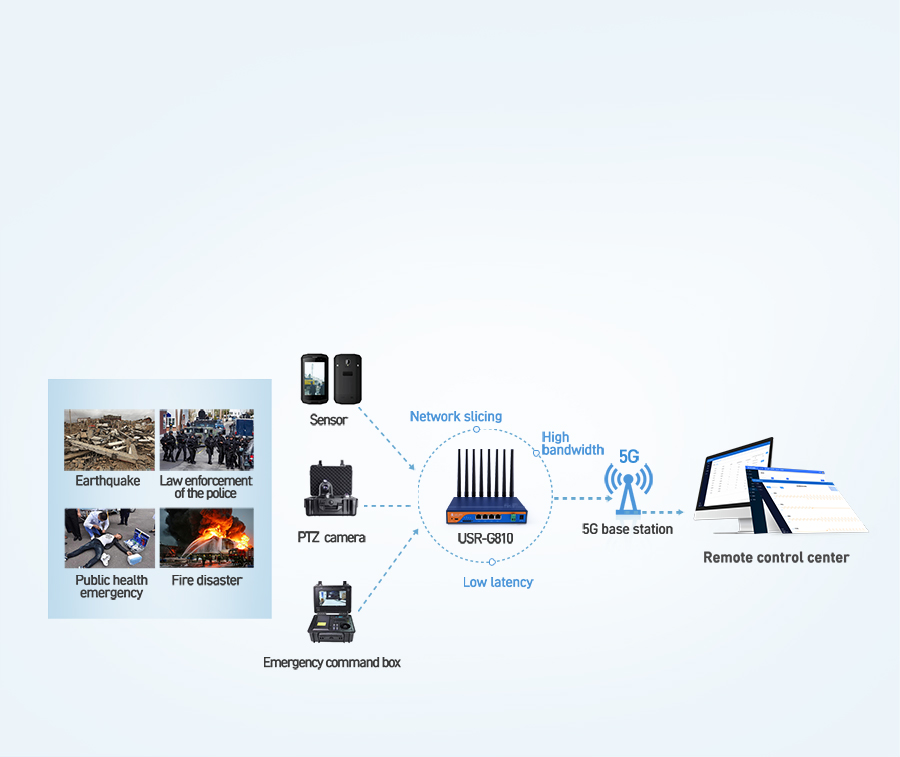 Smart Harbour Video Monitoring Solution
The real-time high-resolution video images of the multi-directional cameras installed on the gantry crane are returned. The staff can remotely control the gantry crane and the bridge crane to grab and release containers for 24 hours through the computer, further improving the efficiency of port operations. G810 automates the terminal operation in an unmanned, and intelligent manner. This is in line with the overall objective and goal of reducing costs while increasing efficiency.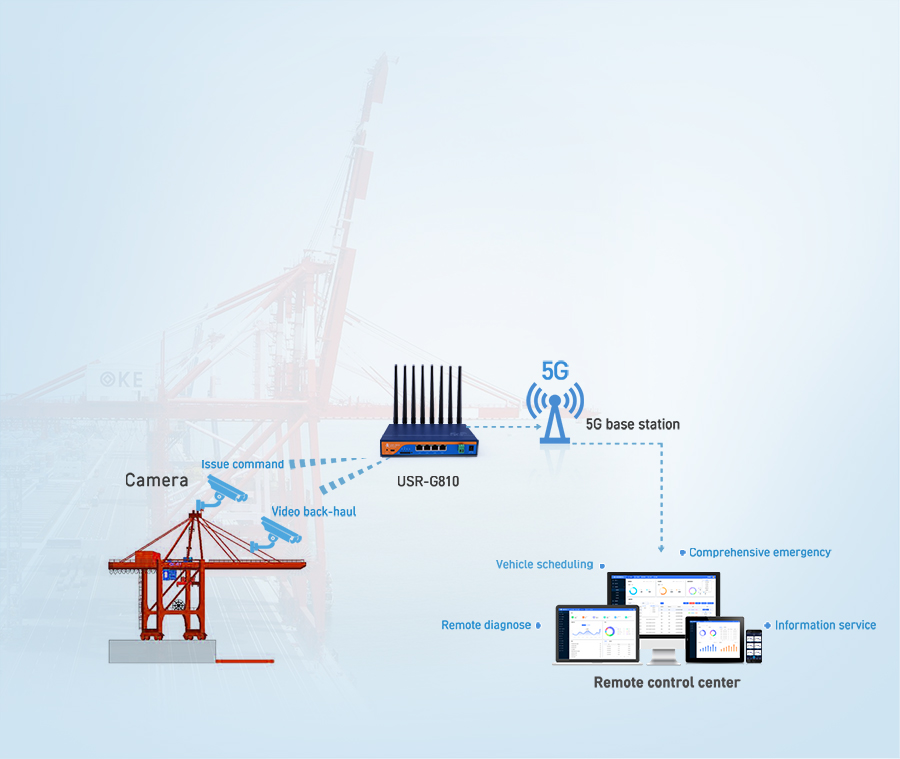 5G Smart Medical Emergency Information System
5G smart medical emergency information system includes smart emergency cloud platform, vehicle emergency management system, remote emergency consultation guidance system, emergency assistance system, etc. It transmits real-time data of medical monitoring equipment, vehicle real-time positioning, and high-resolution video inside and outside the vehicle through the 5G network. This is more convenient for remote consultation and remote guidance. G810 provides strong technical support for pre-hospital emergency and smart medical care.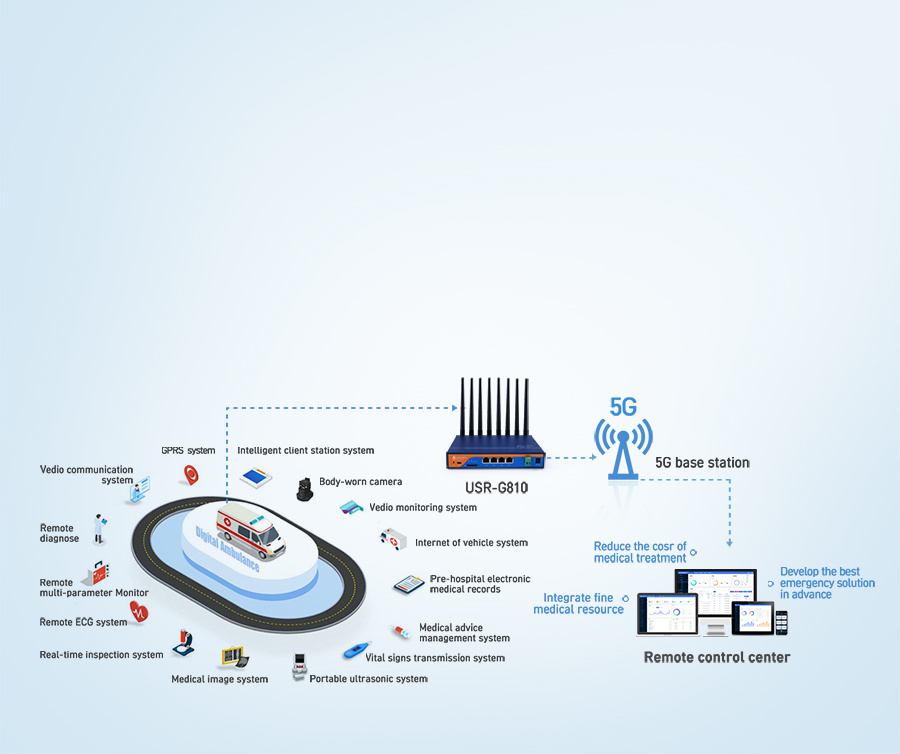 Specification Parameters
Cellular
Module
Industrial grade cellular module
Frequency bands
5G NR:n1、n28、n41、n77、n78、n79
LTE:B1、B2、B3、B5、B7、B8、B34、B39、B40、B41
WCDMA:B1、B2、B5、B8
Bandwidth
5G NR: up to 900Mbps uplink, up to 2.1Gbps downlink
LTE: up to 150Mbps uplink, up to 1Gbps downlink
HSPA+: up to 5.76Mbp uplink, up to 42Mbps uplink
TX PWR
Class 3 (23dBm±1dB)
Wi-Fi
Frequency bands
IEEE802.11b/g/n, 2.4GHz, AP mode
IEEE802.11ac, 5.8GHz, AP mode
Bandwidth
2.4G: up to 300Mbps, 5.8G: up to 867Mbps
AUTH type
WPA-PSK, WPA2-PSK, MPA3-PSK
Encryption algorithm
TKIP, AES
Transmission distance
Outdoor: up to 200 meters by line of sight without obstruction
Indoor: up to 40 meters
Actual transmission distance depends on environment of the site.
Interfaces
WAN
1 10/100/1000M Ethernet port, auto MDI/MDIX,1.5KV network isolation transformer protection
LAN
3 10/100/1000M Ethernet port, auto MDI/MDIX,1.5KV network isolation transformer protection
Indicators
PWR, WLAN, NET, SIG
Antennae
Cellular: 6xSMA Female (Outer screw inner hole)
Wi-Fi: 2xSMA Female (Outer screw inner hole)
SIM card
6 PIN drawer-type SIM card slot,3V/1.8V 2FF mini SIM card
Power supply
DC Power Jack Barrel Type Female 5.5*2.1mm Round socket + 2 PIN industrial terminal block, anti-reverse connection
Reload
Pinhole reset button, Long press for more than 5s to release to restore factory settings
TBD USB
Debug and flash
Power supply
Power adaptor
DC 12V/2A
Voltage range
DC 9-36V
Current
Average 524mA, Peak 637mA/12V
Mechanical
Housing
Metal, IP30
Dimensions
200.0*140.0*35.0 (L*W*H)
EMC
ESD
IEC 61000-4-2 Level 3
Surge
IEC 61000-4-5 Level 3
EFT
IEC 61000-4-4 Level 3
Ambient Environment
Operating Temperature
-20℃~+70℃
Storage Temperature
-40℃~+125℃
Humidity
5%~95%RH(non-condensing)
Request a Quote