USR-MB706 (LTE Cat M Serial Modem)
● LTE Cat M1, Cat NB2, EGPR
● Transparent (TCP Client/Server, UDP Client/Server), COAP, DNS, modbus RTU/TCP
● Cat M1 /Cat NB2 / GSM/ EDGE
● RS232/RS485 interface easy to connect to serial port sensors
● EFT/Surge IEC 61000-4-5 Level 3
● ESD IEC 61000-4-2 Level 3
● Hardware watchdog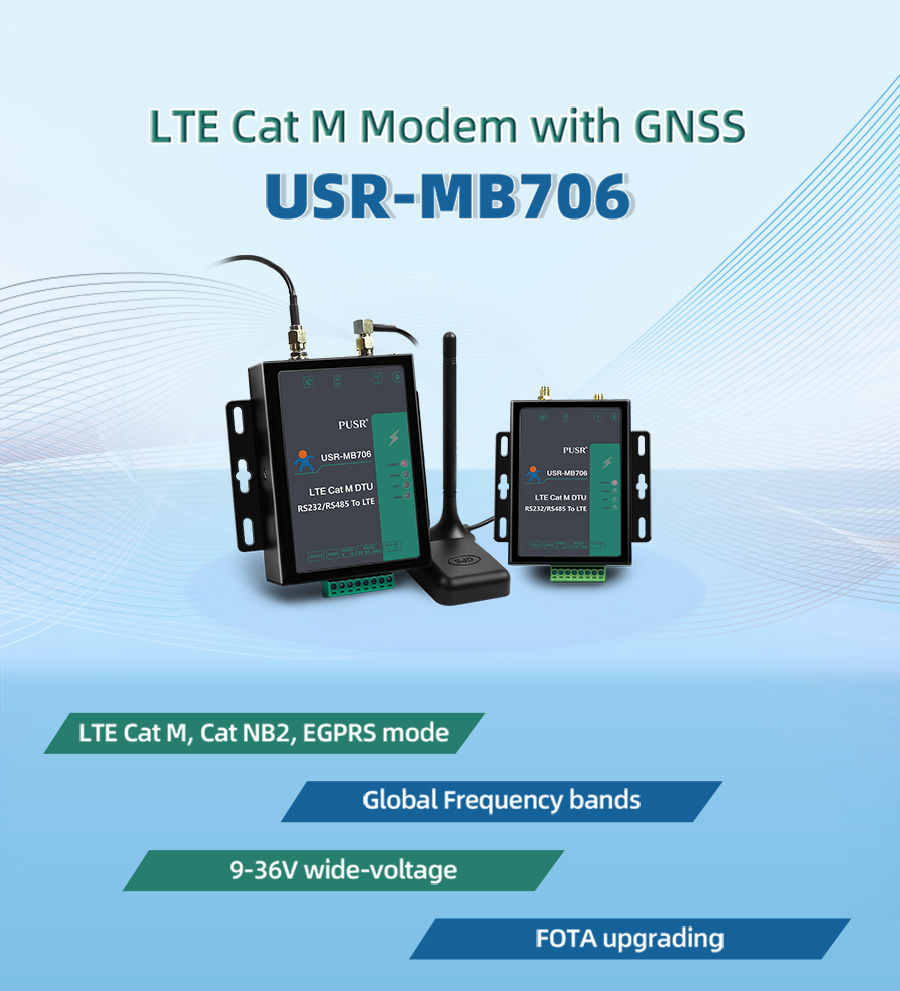 Function Block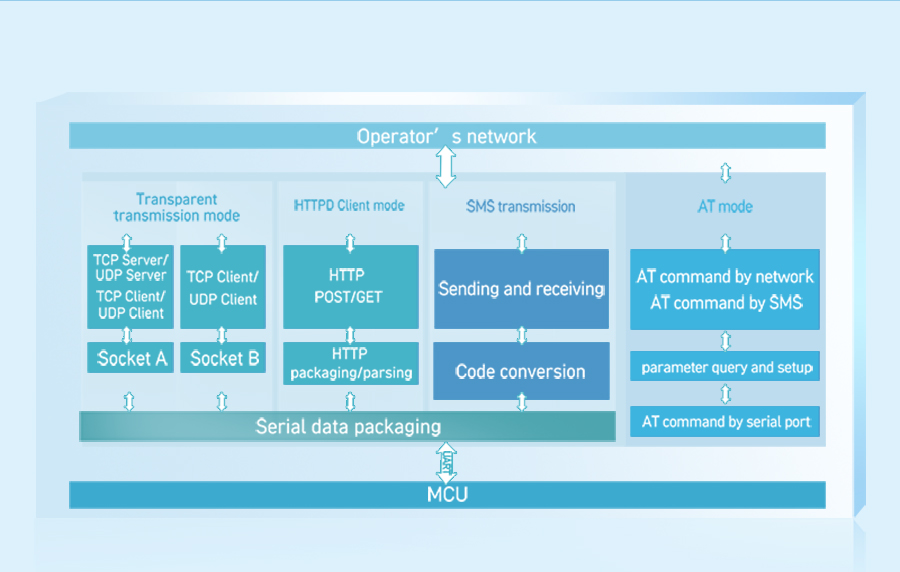 Basic Function
USR-MB706 quickly delivers the bi-directional transparent transmission of data at serial ports and networks.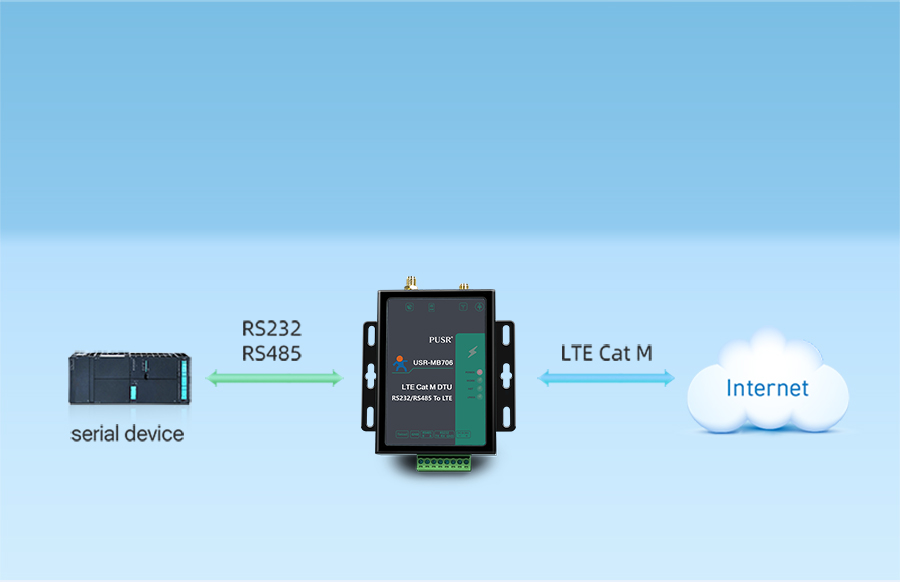 Modbus RTU to TCP
Modbus RTU/Modbus TCP protocol conversion for industrial SCADA systems and field devices.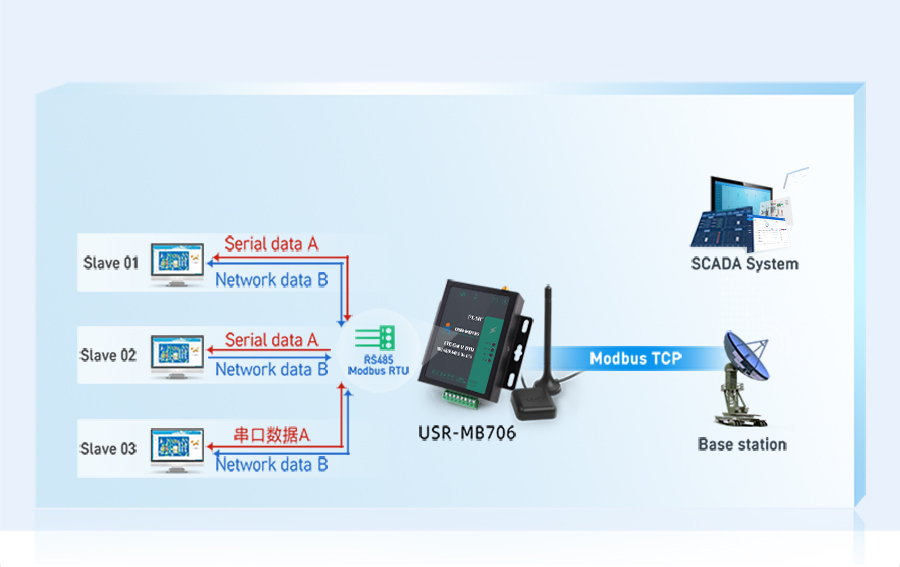 Supports GNSS and positioning information reporting
USR-MB706 supports multiple positioning modes, including GPS, beidou, glonass and galileo, which can be configured by AT commands and output the positioning format comparable to international standards.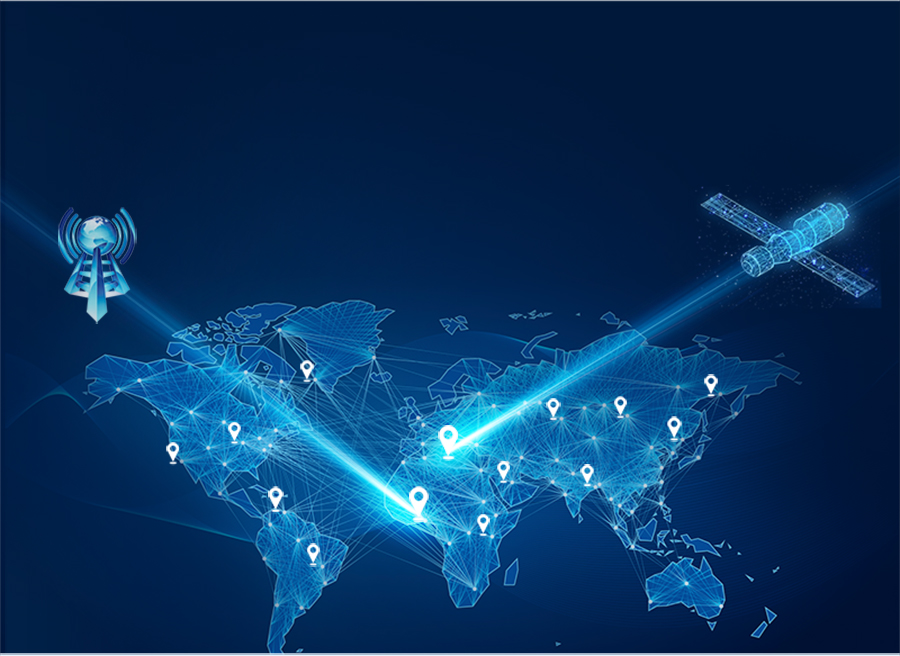 Registration Package plus Heartbeat Package
The registration packet is sent to the server to identify the device. The heartbeat packet is used to judge the active state of the device when sent to the server, which will actively collect data when sent to the serial terminal. The contents of registration package, heartbeat package, as well as heartbeat interval can be modified by AT command.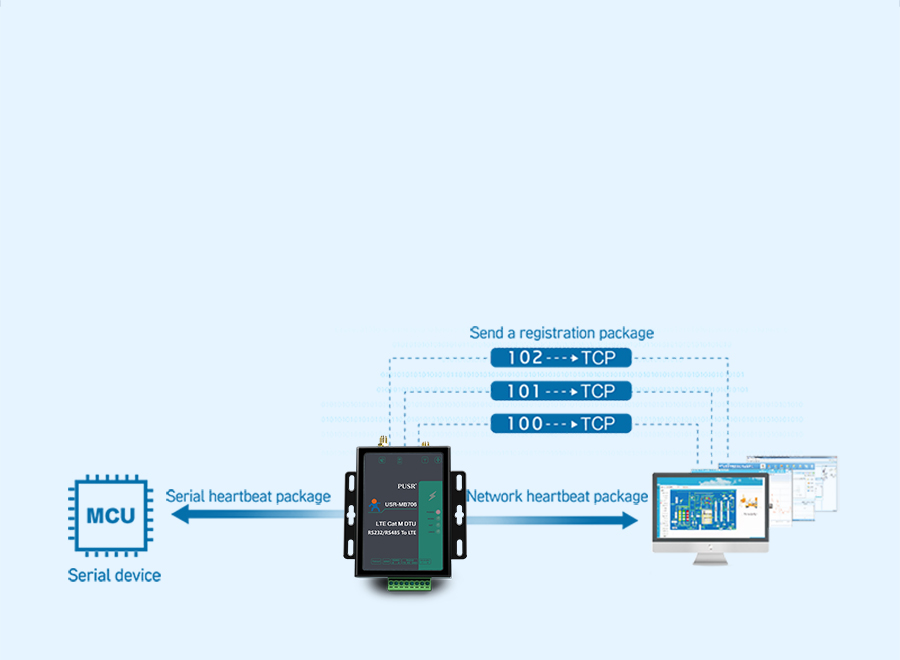 Designed with Qualcomm MDM9205 communication module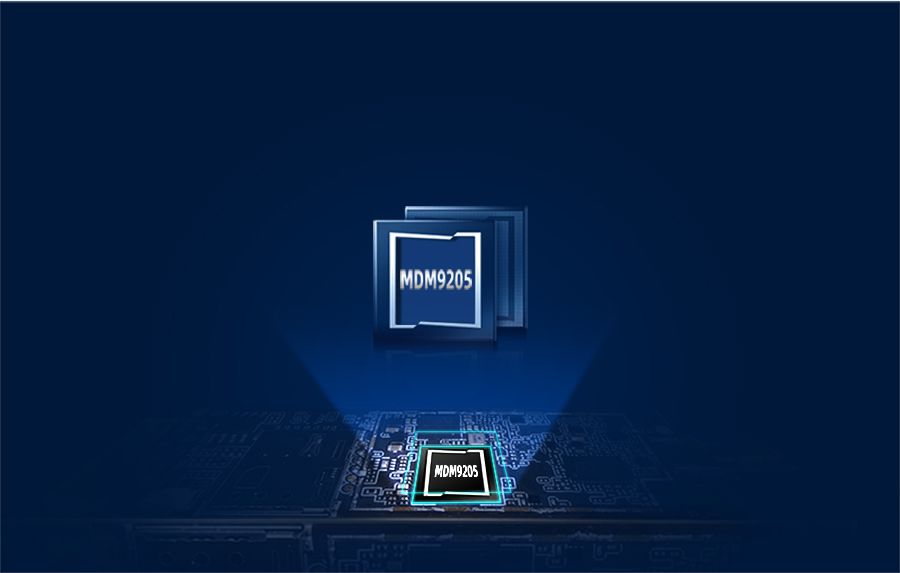 Parameter Configuration
Supports the parameter configuration of serial, network and SMT AT commands, and provide the configuration tools for the PC.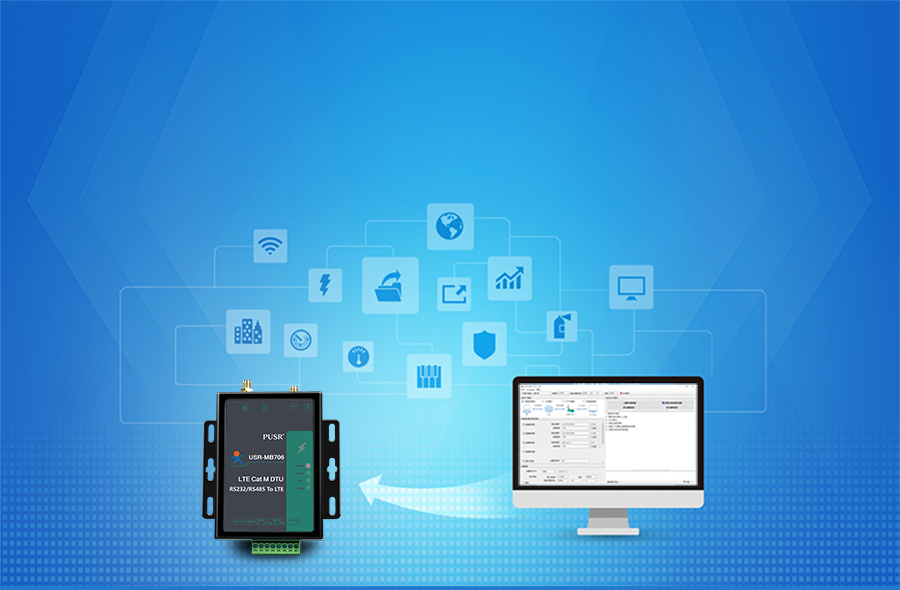 Remote FOTA Upgrade
With the remote management platform, it can realize the automatic firmware upgrade. Besides, there exists a small upgrade package of differential algorithm, and this results in the saving of upgrade traffic and time.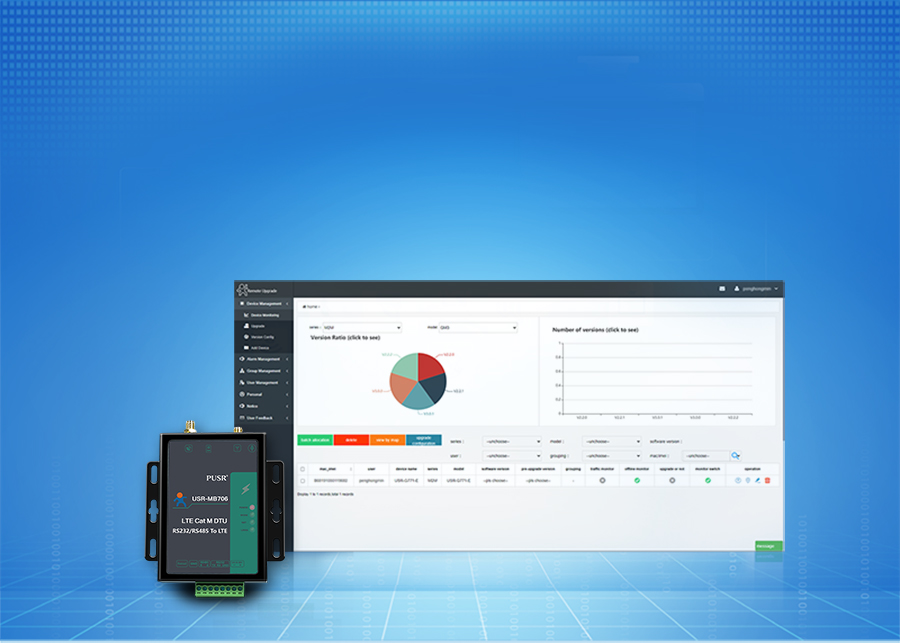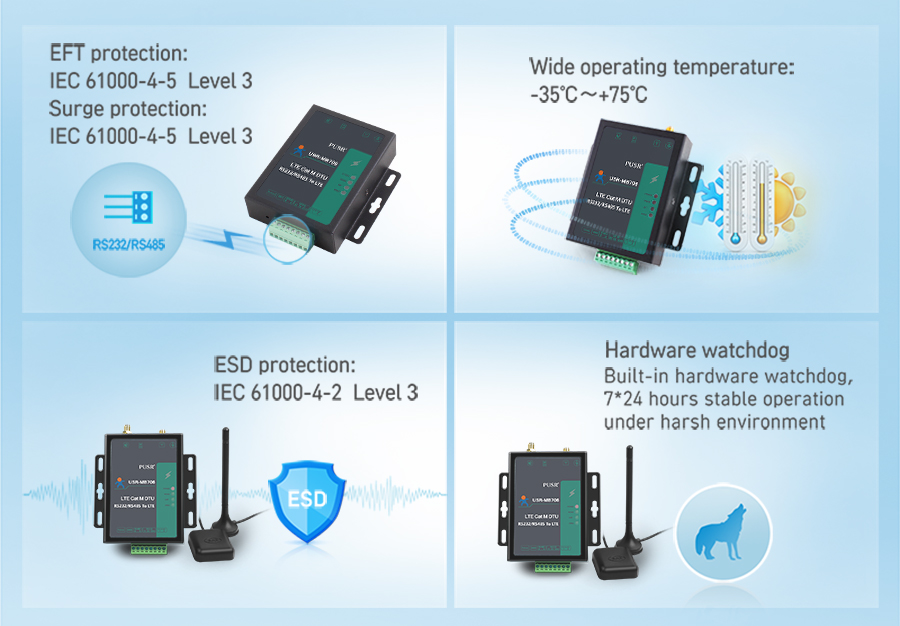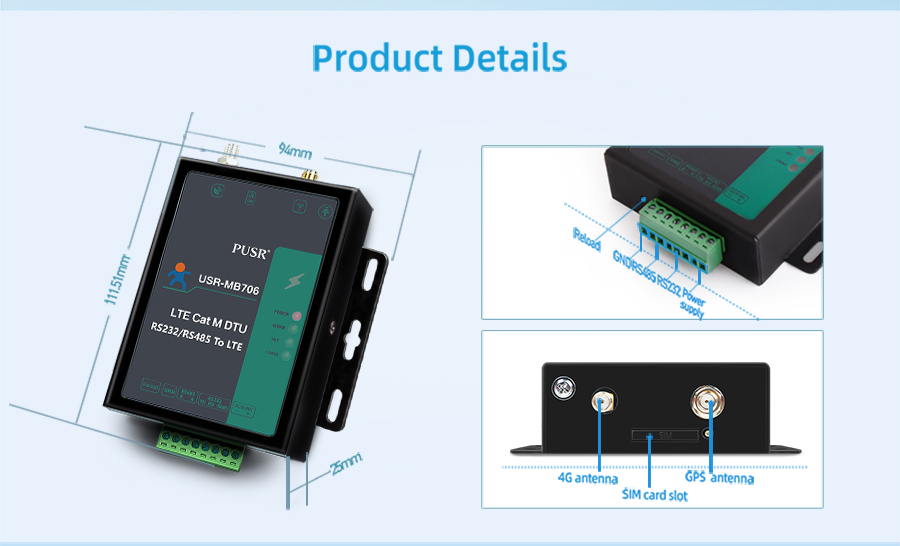 Application Cases of Vehicle Monitoring
MB706 can upload the vehicle information to the cloud, and the cloud monitoring personnel can monitor the vehicle status in real time to achieve intelligent process management.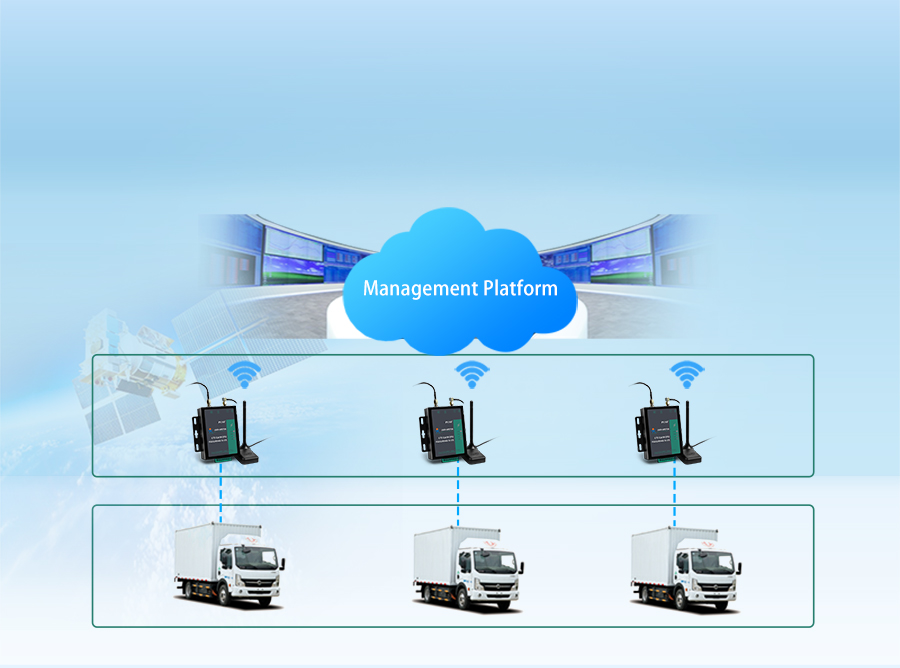 Meter Reading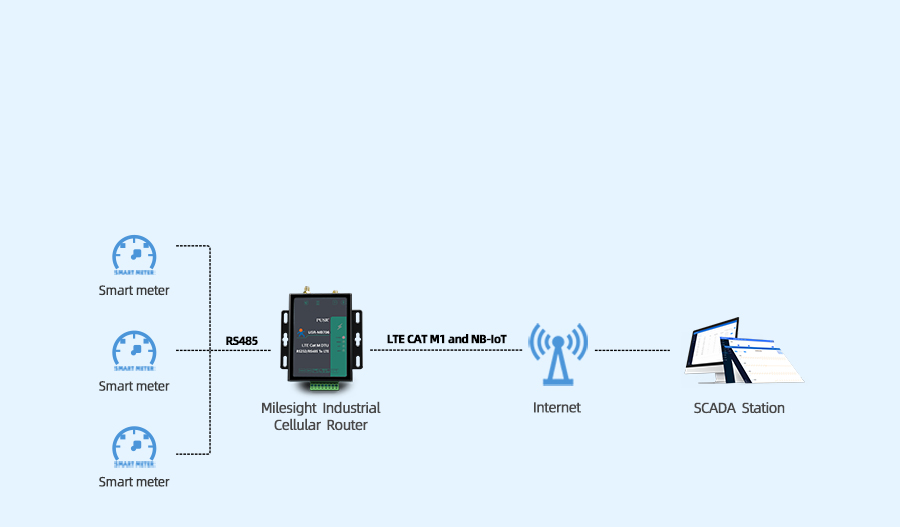 Smart meters are crucial components of the Smart Grid and enable two-way communication by interfacing remotely with the utility and deliver meter readings automatically. By gathering and forwarding data, smart meters allow consumers to make informed decisions to alter usage and optimize electricity consumption. It also helps utilities to better monitor the electrical system and demand response to reduce peak loads, and prevent outages. Through the connection with MB706, all the serial data will be sent to SCADA software via LTE CAT M1 and NB-IoT network.
Specification Parameters
Frequency Bands


Cat M1
B1/2/3/4/5/8/12/13/18/19/20/25/26/27/28/66/85
Cat NB2
B1/2/3/4/5/8/12/13/18/19/20/25/28/66/71/85
GSM/EDGE
850/900/1800/1900 MHz
Transmission Speed
Cat M1
588Kbps DL/1119Kbps UL
Cat NB2
127Kbps DL/158.5Kbps UL
EDGE
296Kbps DL/236.8Kbps UL
GPRS
107Kbps DL/85.6Kbps UL
Software
DFOTA / VoLTE (Cat M1 only) / FTP
SMS: PDU modes
Transparent (TCP Client/Server, UDP
Client/Server), COAP, DNS, modbus RTU/TCP
HTTP/SMS transparent transmission
CMD mode, AT command operation
Cell ID Positioning, GNSS
Physical Interfaces
Serial
RS485 (2PIN)/ RS232(3PIN)
USB
2.0
USIM
1.8V MINI SIM 2FF
Antenna
SMA * 2
Indicators
POWER, WORK, NET, LINKA
Reload
Button
Installation
Panel mounting
Hardware Characteristics
Power Supply
9~36V
Power Consumption
<1W (43mA@12VDC)
Dimensions
105mm × 94mm × 28mm
Operating temperature
-35℃~+75℃
Expansion temperature
-40℃~+85℃
Storage temperature
-40℃~+85℃
Relative Humidity
5%~95% (non-condensing)
Serial
Cache
5 packets, maximum 1000 byte per packet
Connector
Terminal block, female socket
Baudrate
2400~230400bps
Parity
NONE/ODD/EVEN
Data
8
Stop
1/2
Certifications
CE/ RoHS
Request a Quote