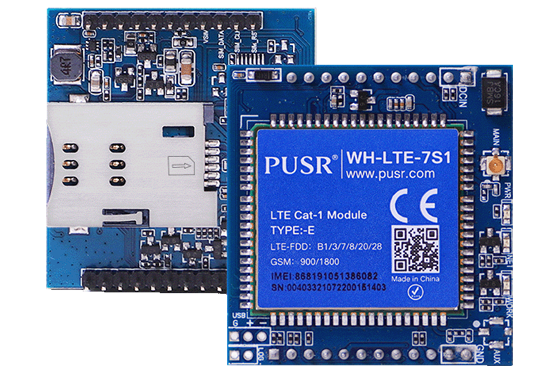 WH-LTE-7S1-E (DIP type LTE Cat 1 Module)
Uart to 4G: AT commands and data transmission, TTL-3.0V
TCP/UDP/HTTPD/SMS transparent transmission
TCP /UDP/IPV4/IPV6/HTTP/MQTT/DNS/SSL/TLS
Cloud support: MQTT via AWS IOT, Thingsboard, Alibaba Cloud, EMQX, Tuya, Cumulocity IoT, etc.
EFT/Surge IEC 61000-4-5 Level 3
ESD IEC 61000-4-2 Level 3
Hardware watchdog
SMS, NET, Serial AT command configuration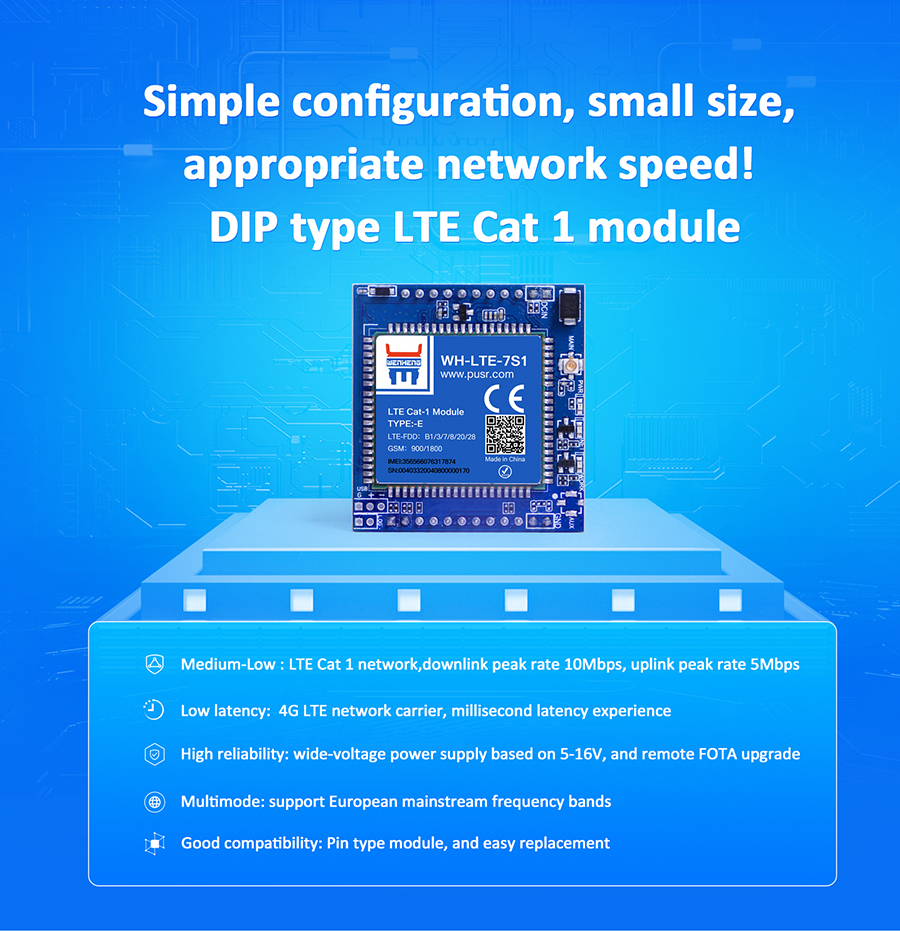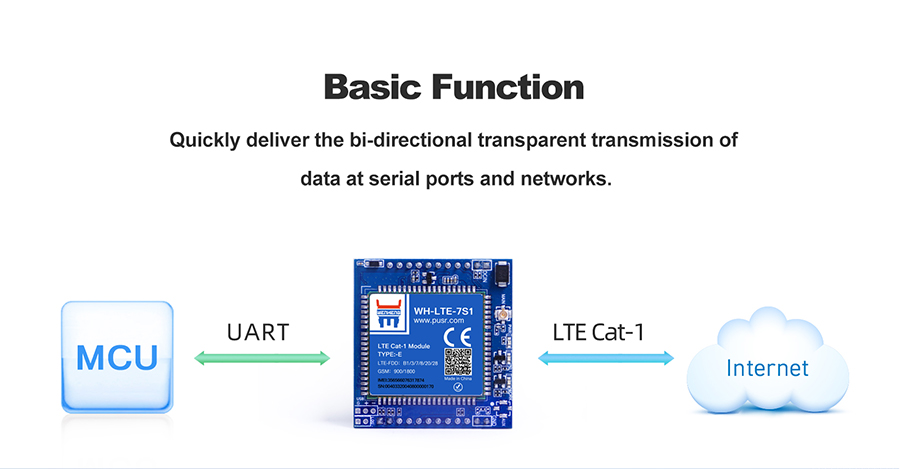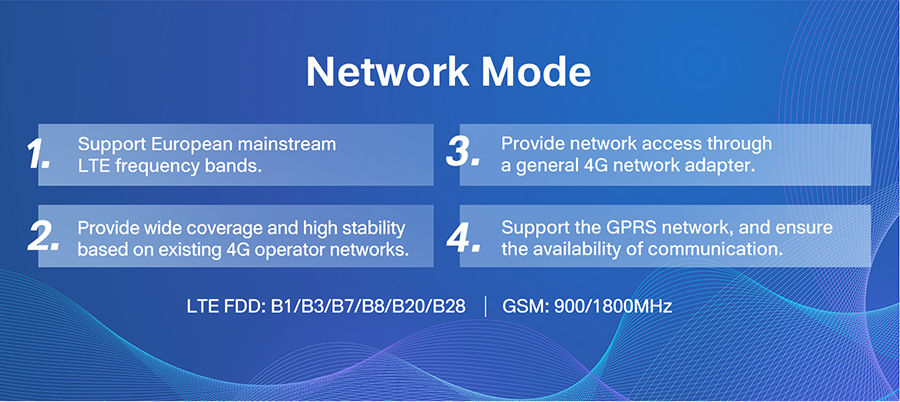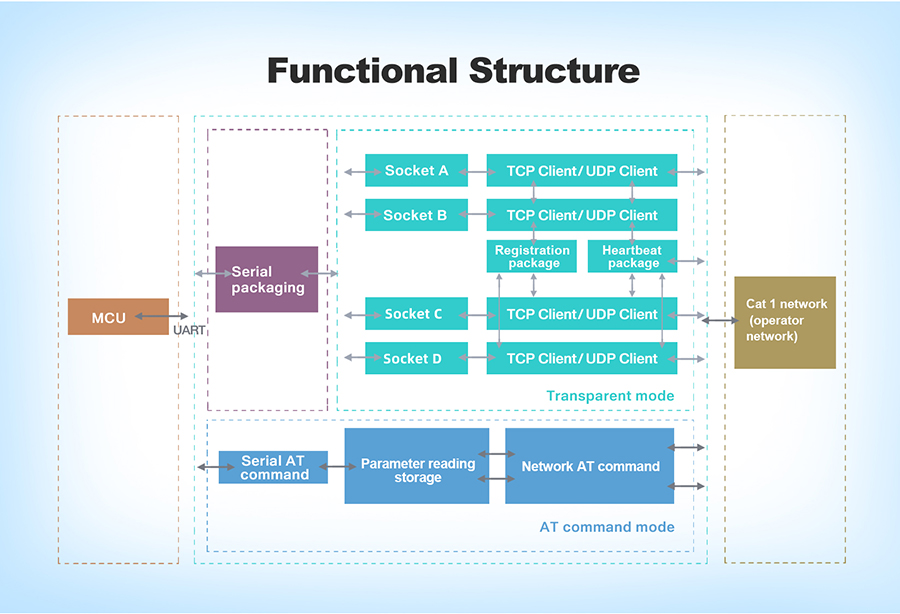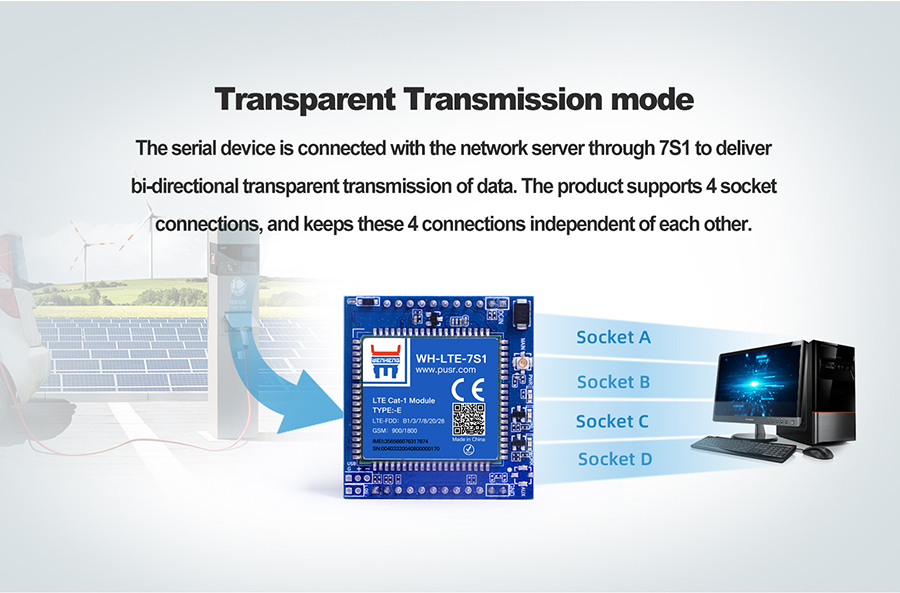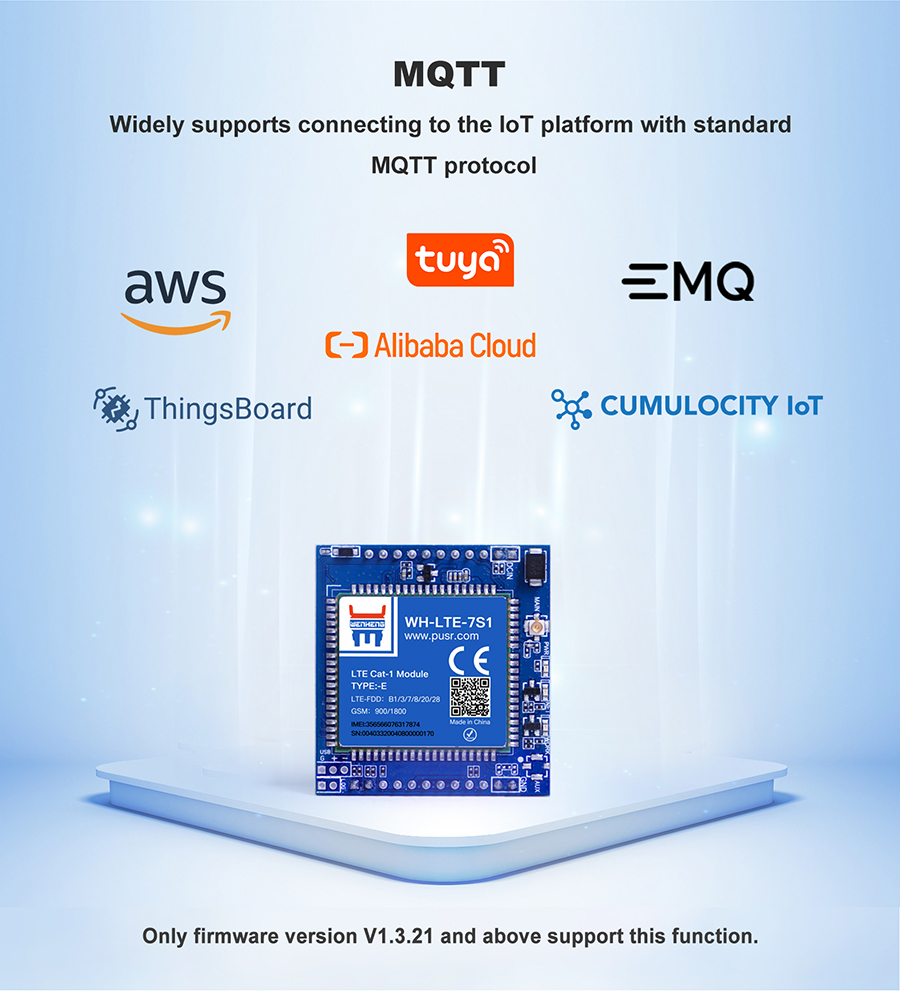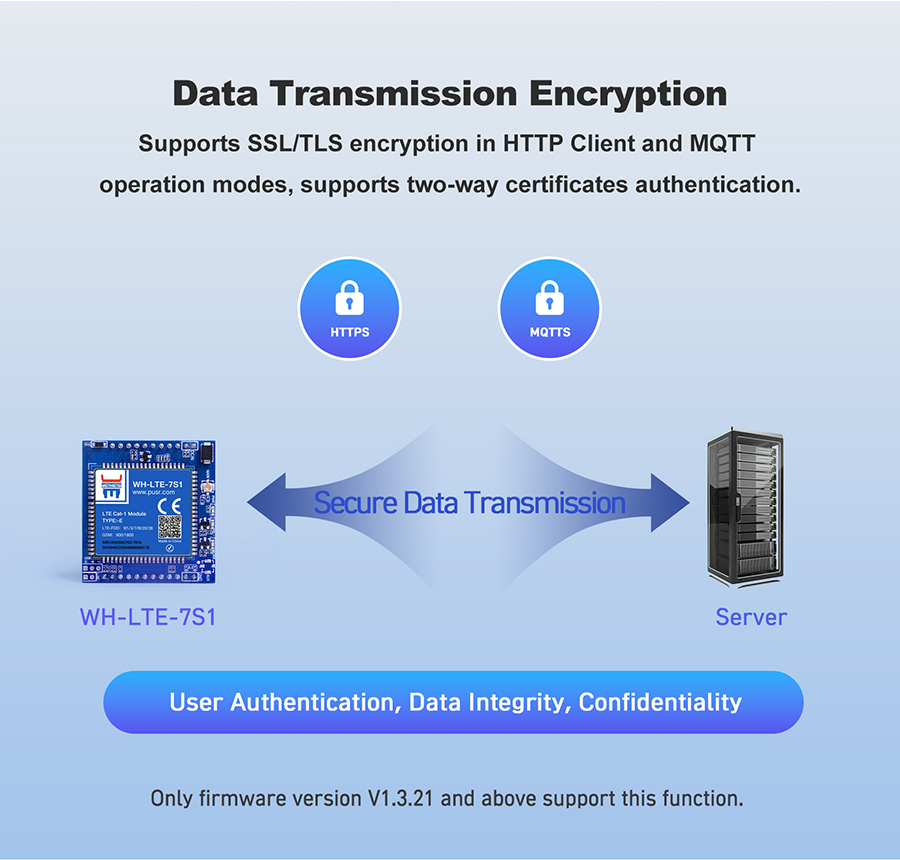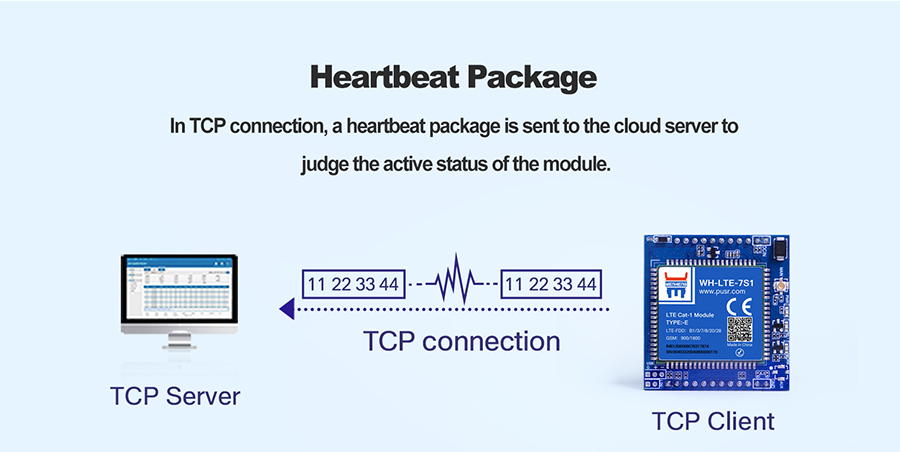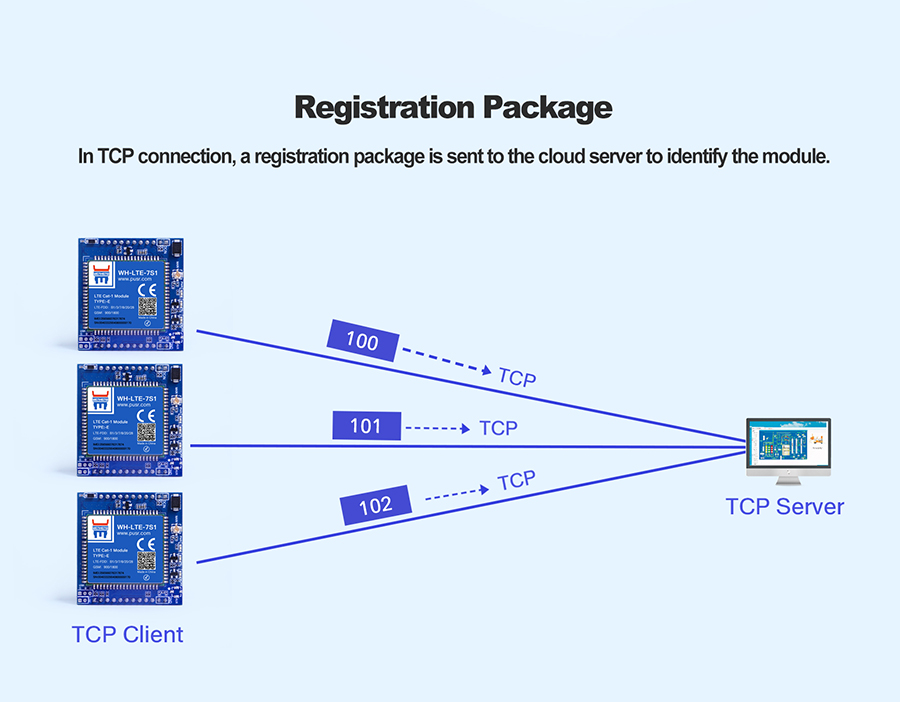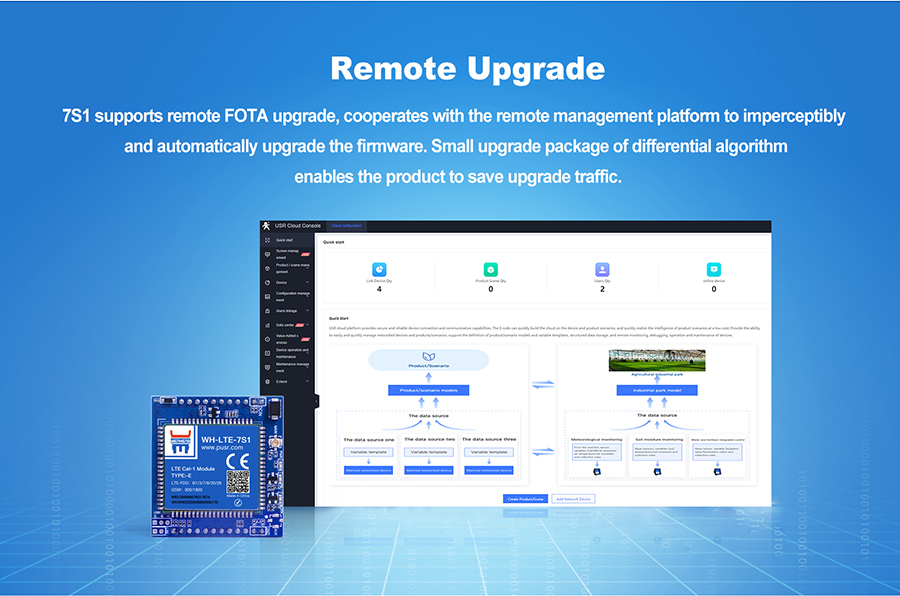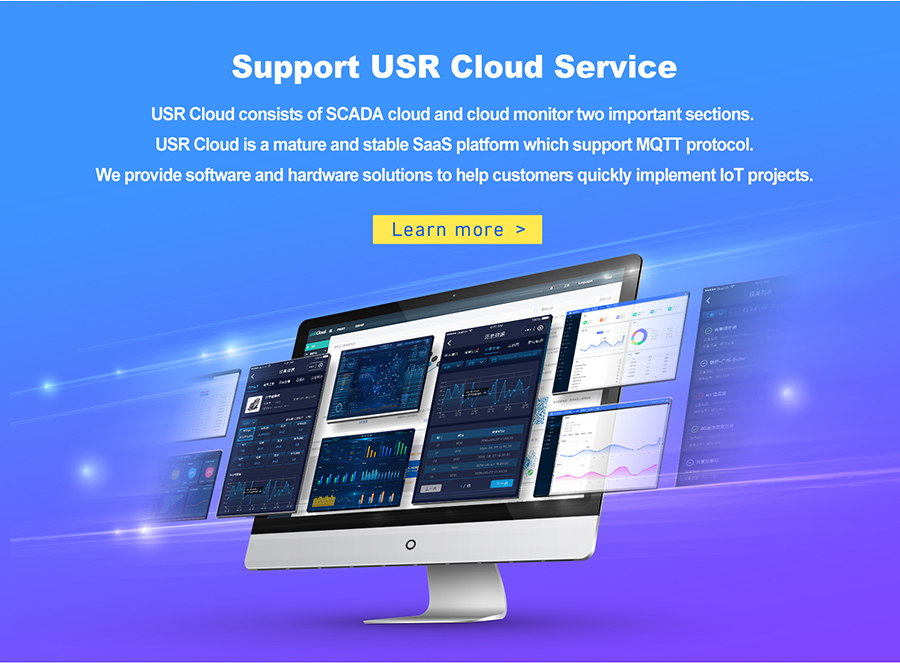 Application Case
Case of the Transmission of Sharing Payment Terminal via Internet
In this scenario, 7S1 can quickly upload terminal data and issue server commands, bringing good interaction experiences to consumers. The sharing payment solution using 7S1 provides the following advantages: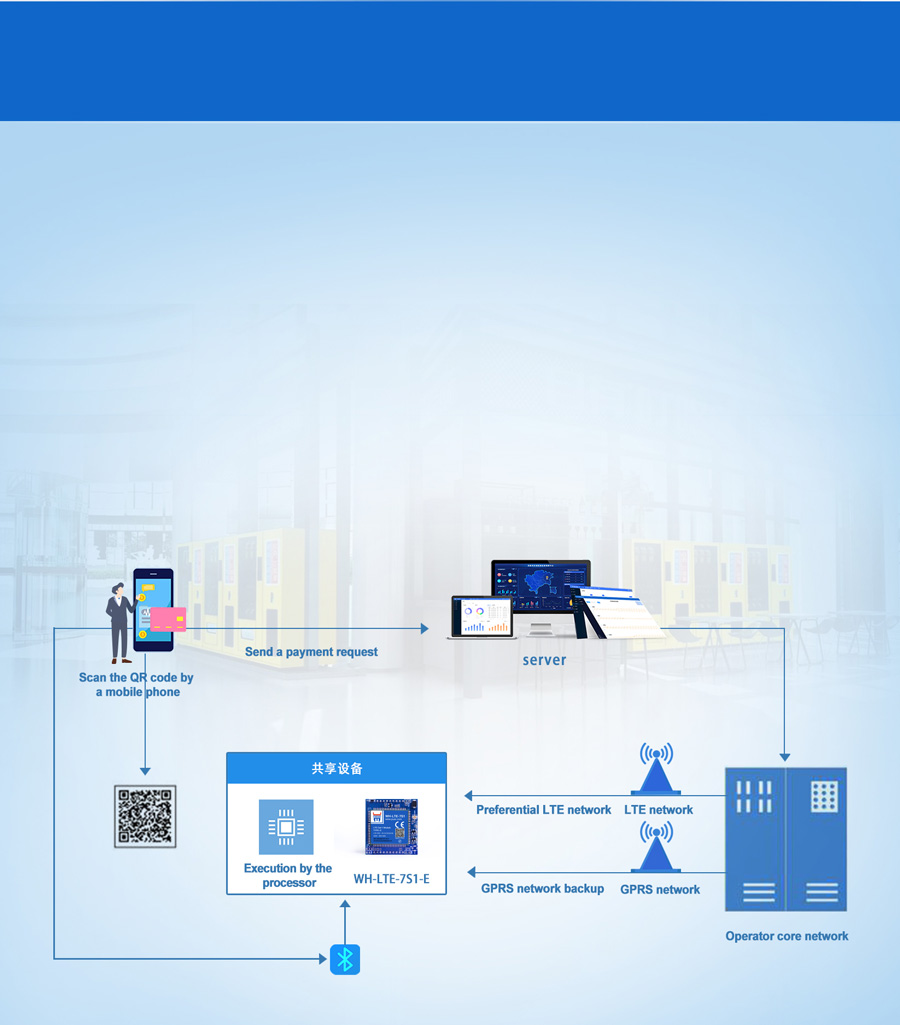 Support LTE, enjoy stable networks, millisecond delay of data communication, and provide good payment experiences
Support GPRS, and automatically switch over GPRS in the case of unstable LTE while meeting requirements and ensuring communication quality
Support bi-directional transparent transmission of data at serial ports and networks, with ease of use, and release you from subsequent operations once configured.
Case of Agricultural IOT Environmental Monitoring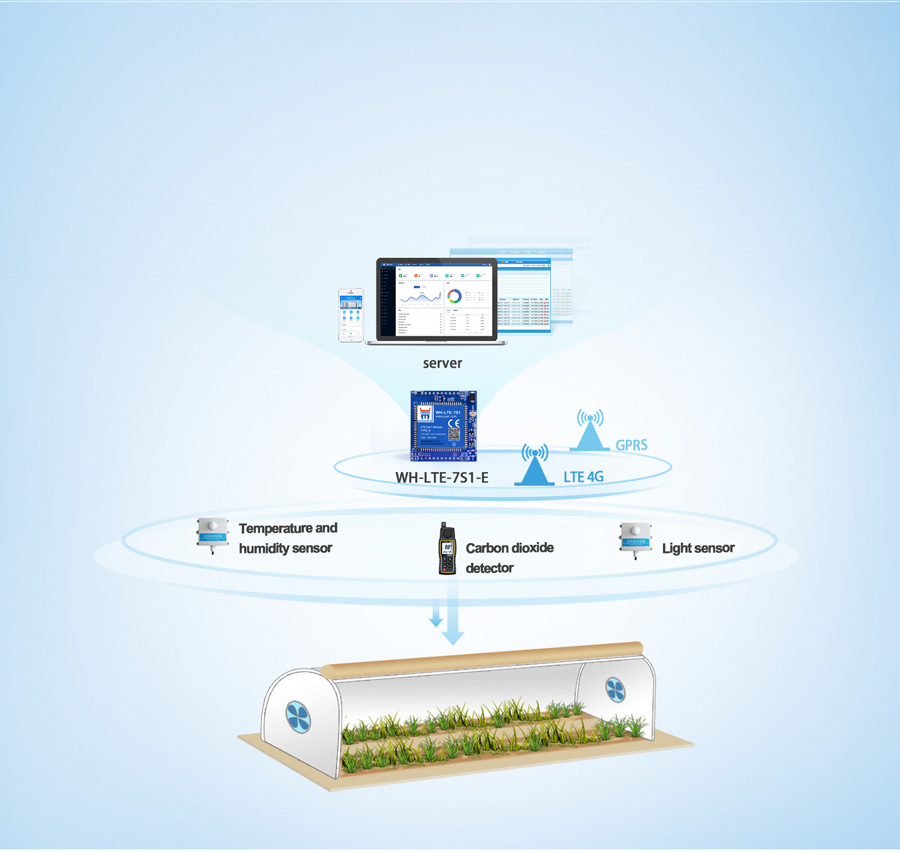 G7S1 can quickly upload the data collected by sensors in agricultural greenhouses to remote servers through the LTE or GPRS network to facilitate the control center to monitor the greenhouse dynamics in real time and provide timely responses.
Specification Parameters
Model
WH-LTE-7S1-E
LTE Category
LTE Cat.1
Frequency Bands
LTE FDD
B1/B3/B7/B8/B20/B28
GSM/GPRS/EDGE
900/1800MHz
Transmission Speed
LTE FDD Rel.13
10MbpsDL/5Mbps UL
GPRS
85.6KbpsDL/85.6Kbps UL
TX Power
FDD:B1/3/7/8/20/28
23dBm±2dB
GSM:900MHz
33dBm±2dB
GSM:1800MHz
30dBm±2dB
Rx Sensitivity
GSM:900MHz
-109.5dBm
GSM:1800MHz
-108dBm
FDD:B1/3/20
-98dBm
FDD:B7
-97.5dBm
FDD:B8/B28
-98.5dBm
Serial Parameters
NO.
TTL(3.0V)*1
Data Bits
8
Stop Bits
1,2
Parity Bits
NONE,ODD,EVEN
Baud Rate
1200~460800
Physical Interfaces
SIM/USIM card
1.8V/3V(with slot)
Antenna
IPEX socket
USB
USB 2.0
Indicators
POWER,WORK,NET
Reload
Pin, built-in Pull-up Res
Reset
Pin, built-in Pull-up Res
Hardware Characteristics
Input Voltage
3.6V~4.2V/5~16V
Power Consumption
<2.7W
Connector
DIP
Housing material
–
Dimensions(mm)
44.4×41.8×12.5
(L*W*H)
Operating Temperature
-30℃~+75℃
Storage Temperature
-40℃~85℃
Operating humidity
5%~95%
Storage humidity
5%~95%
Software
Protocol
TCP/UDP/IPV4/IPV6/ /DNS/HTTP/MQTT/SSL/TLS
RNDIS
Default Close
Serial to network
4 sockets, default A
SMS
PDU/TEXT
Configuration
Serial, Net, SMS AT commands
Cache
20 packets*4K Bytes
Packaging Mechanism
Packaging time(ms)
10~500, default 50
Packaging length(byte)
5~65535, defalut 1024
Others
Tool
USR-Cat1 Configuration Utility

Certifications
CE, RoHS
Request a Quote